Breakups are never easy. It is heartbreaking when you have to say goodbye to something that meant so much to you, and even worse when the other person is not willing to work on it.
It's an emotional roller coaster that will have you at both extremes of sadness and happiness. You'll feel like your life has ended one minute and then be so excited to start fresh the next. One thing is for sure: Breakups are memorable moments in our lives!
But it's easier when you have the right words to get through it. Sometimes these break up quotes are just what people need to hear in order to feel better about themselves and their situation.
In this blog post, we have compiled 50 break up quotes from celebrities that will hopefully help provide some motivation or at least make you laugh when you need it most and help you overcome your broken heart!
Break-up Quotes
1.
Tears are the silent heart of the grief.

-Voltaire
2.
Tears come from the heart and not from the brain

-Leornado da Vinci
3.
Things changes and friends leaves but life doesn't stop for everybody

-Stephen Chbosky
4.
If someone doesn't appreciate your presence, let them appreciate your absence

-unknown
5.
Don't cry over who would not cry over you

-Lauren Conrad
6.
Relationships are like a glass, sometimes it's better to leave them broken than try tohurt yourself put it back together.

-Unknown
7.
Heartbreaking won't make you die, it would make you a stronger person, with a stronger heart

-Unknown
8.
Don't cry because it's over, cry because it happened.

-Dr. Seuss
9.
Nobody deserves your tear or whosoever deserve them will not make you cry.

-Gabriel Garcia Marquez
10.
If you cry because the sun has gone out of your life, your tears will prevent you from seeing the sky.

-Rabindranath Tagore
11.
Sadness flies away on the wings of time

-Jean De La Fontine
12.
Cry. Forgive. Learn. Move on. Let you tears water the seed of your future hapiness.

-Steve Maraboli
13.
Yesterday I was clever, so I wanted to change the world. Today I'm wiser so I'm changing myself

-Rumi
14.
You're one decision away from totally different life

-Mark Batterson
15.
You can't stop the waves, but you can learn to surf.

-Jon Kabat Zinn
16.
everyone thinks of changing the world, but no one thinks of changing himself

-Leo Tolstoy
17.
Change your thought and you change your world

-Norman Vincent Peale
18.
Without the rain there would be no rainbow

-Gilbert Chesterton
19.
At some point, you have to realize that some people can stay in your heart but not your heart.

-Sandi Lynn
20.
Tears may be dried up but the heart never

-Marguerite Gardiner
21.
Tears are the inability of the soul to restrain its emotion and retain itself-command

-Henri Frederic Amiel
22.
Nothing is more beautiful than a smile that has struggled through tears

-Demi Lovato
23.
Why waste your tears on someone who makes you cry

-Kirsten Dunst
24.
Happiness is not a station you arrive at, but a manner of travelling

-Margaret B. Runbeck
25.
People cry not because they are weak, It's because they've been strong for too long.

-Johnny Depp
26.
A fake smile can hide a million tears

-Unknown
27.
Heavy hearts, like heavy clouds in the sky, are best relieved by the letting off a little water.

-Christopher Morley
28.
Sometimes, crying is the only way when your mouth can't explain how broken your heart is.

Benjamin Franklin
29.
Forgiveness doesn't change the past but it enlarge the future

Paul Boese
30.
We may love the wrong person and cry over the wrong person, but one thing is for sure, mistakes help us to find the right person.

-Unknown
31.
Nobody can hurt me without my permission

-Mahatma Gandhi
32.
One of the most courageous decisions you will ever make is to finally let go of what is hurting your heart and soul.

-Brigitte Nicole
33.
Our loved ones change, life change and we have change too

-unknown
34.
Life is too short to stress yourself with the people who don't deserve it to be an issues in your life.
35.
The best revenge is just moving on and getting over it. Don't give someone the satisfaction of watching you suffer.

-Unknown
36.
Instead of wiping away your tears, you should wipe away the person who made you cry

-Unknown
37.
Pains make you stronger, tears makes you braver, hearts breaks makes you wiser, so thank the past for the future

-Unknown
38.
You have to forgive to forget, and forget to feel again

-Unknown
39.
A friend who understands your tears is more valuable than a lot of friends who only know your smile.

-unknown
40.
We always ignore the ones who adores us, and adore the ones who ignore us.

Unknown
41.
When Ex says you'll never find someone like me, reply with That's the point.

-Unknown
42.
As I began to love myself, my relationship with everyone changed

-Unknown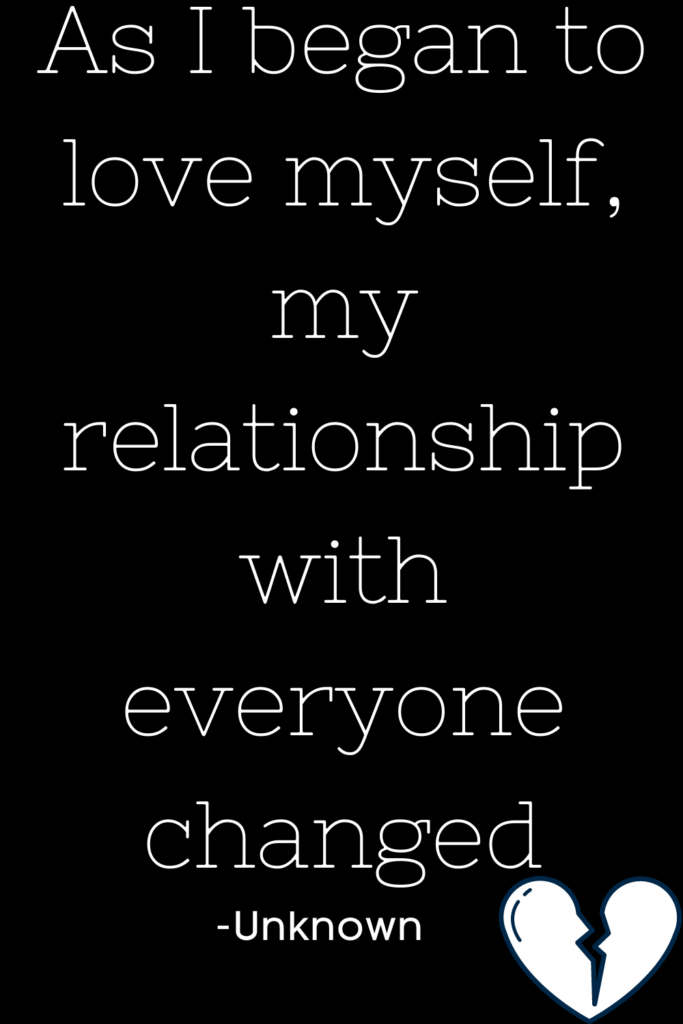 43.
Tears are simply the raindrops from the storm inside us

-Unknown
44.
No one notice your tears, no one notice your sadness, no one notices your pains, but they all notice your mistake.

Unknown
45.
Crying is like a thunder shower for the soul. The air feels so wonderful after the rain.

Unknown
46.
Sometimes you have to smile to act like everything is okay, hold back the tears and walk away.

Unknown
47.
Just because you left me crying, doesn't mean I can't smile again.

Unknown
48.
EX means "thanks for experience, our time has expired. Now exit my life"

-Unknown
49.
"The secret of change is to focus all of your energy not on fighting the old, but on building the new."

—Socrates
50.
"Let it hurt. Let it bleed. Let it heal. And let it go."

— Nikita Gill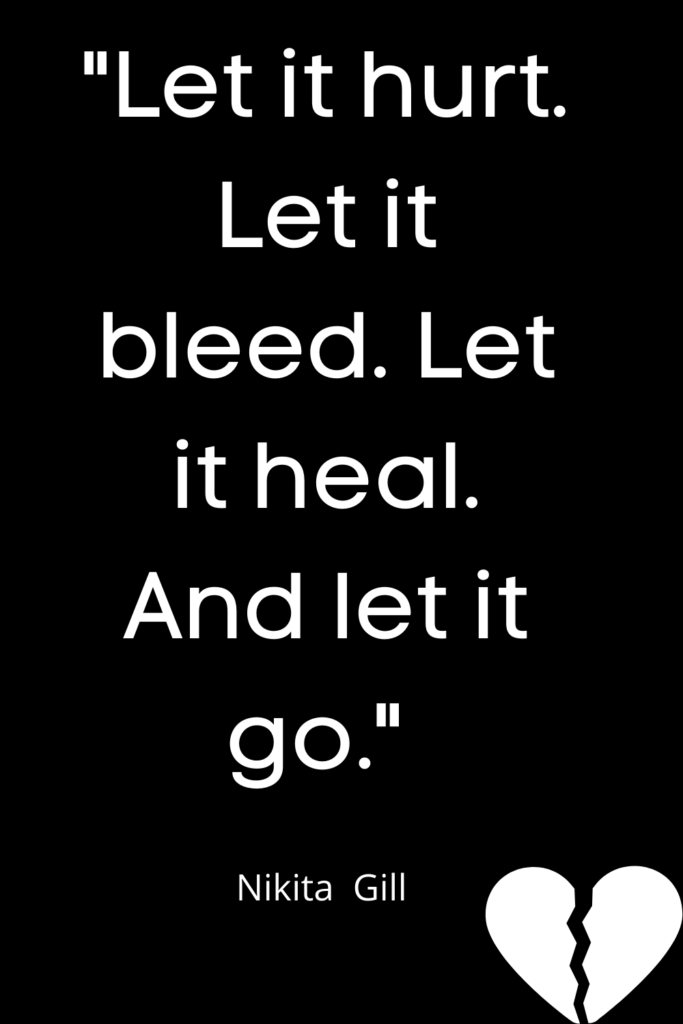 We hope you'll find these break up quotes motivating and inspiring. If not, we're sorry to hear that your heart is still broken from the end of a relationship. Whatever stage you are in, know that there's no shame in taking time for yourself or leaning on friends who care about you during this difficult process. You deserve it! To be happy again — someday soon– take comfort in knowing that every day gets better than the last one…we promise.
And If any of these break up quotes resonated with you, please share them on your social media channels to help motivate others who may be struggling in their relationship at the moment.
Read more
40+ Heart Wrenching Love Failure Quotes For Broken Hearts.