Growing up, Cabbage wasn't part of my favourite vegetables despite its many benefits. I wouldn't touch it with a long pole, let alone make a soup out of it.
After my third pregnancy, I got desperate about losing postpartum weight. I wanted to shed baby fat so badly, so I started to research on the best way to achieve that.
From my findings, I read that Keto diet is one of the fastest ways to lose weight even with minimal exercise. Keto requires consuming low carbs on a daily basis and cabbage contains low carbs.

Due to my desperation, I decided to try cabbage dishes. I embraced cabbage wholeheartedly until it became my favourite vegetable.

Now, I can boast of different cabbage recipes for weight loss.
Is Cabbage Soup Good For Body Detox?
Yes!
It serves as a detox soup and a very good choice to lose weight faster. You can include it with tons of diets. It's very low in calories and the carbs in 100 g of cabbage are just 6 grams.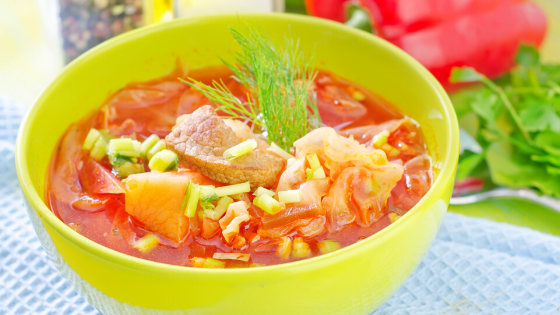 Since l fell in love with cabbage, cabbage soup has been my favourite dish so far, alongside cabbage stir fry.
It's so delicious and healthy, I never get tired of it and I eat as much as I want without guilt. You'll love it more if it's well garnished with mixed herbs and pepper of your choice.
I included carrots in this recipe but if you're considering this recipe for keto and you're on less than 30 grams per day, you can take it out.

Either way, you're still going to get the same taste.

A pot of warm cabbage soup makes a satisfying meal any day anytime.

The chopped beef in this recipe with the use of chicken broth makes the outcome extraordinary. You can also substitute chicken broth for beef broth.
The use of Italian herbs either fresh or dry makes it tastes incredible.

Without much ado, let me introduce you to the best cabbage soup recipe!
Preparation Methods
Wash and cut the Cabbage into smaller pieces, you can use a knife or shred with a food processor.
Wash the Carrots and cut them into smaller pieces.
Cut the Red Ball pepper and the green ball pepper into cubes.
wash and cut both garlic and ginger into tiny pieces and set all the ingredients aside.
Now let's get down to work!
If you like this recipe, you may also like:
The Best Quick Chicken Marinade Recipe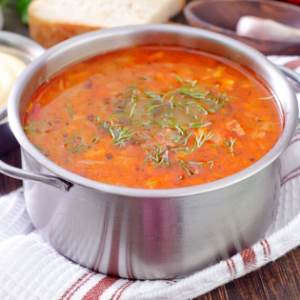 Cabbage Soup
Cabbage soup serves as a detox soup and a very good choice to lose weight faster. You can include it with tons of diets.
Print
Pin
Rate
Ingredients
600 grams Cabbage

Red ball pepper and green ball (1 each diced)

1 big Onion

250 g Chopped beef

2 cloves Garlic

1 small Ginger (chopped)

4-5 tbsp Olive oil

3 medium-size Carrots

2 tbsp Soy sauce

1 tsp each Italian herbs (basil, oregano, thyme)

2 tbsp paprika

1 tsp each black pepper, white pepper, cayenne

1 can Chopped tomatoes

Chicken/ Beef Broth

3-4 bay leaves

salt to taste

6-8 cups water
Instructions
On medium heat, add olive oil, add the onions, ginger and the garlic. Allow them to saute for about 1 minute. 

Add the chopped beef and stir together. Allow to cook and to turn brown a little bit for about 2 minutes.

Add the soy sauce and stir everything together.

Add the chopped tomatoes and carrots, cover, and allow to cook for another 2 minutes.

At this juncture, add the herbs: thyme, basil, oregano, bay leaves. Add the black pepper, white pepper, and cayenne pepper and paprika. (You can also use herbs and pepper of your choice).

Add the salt too at this point. Add the chicken broth and add the shredded cabbage. Allow to cook for about 2 minutes.

Finally, add the water, reduce the heat, cover, and allow to cook for about ten minutes.

Check for salt and if you feel the salt is not enough, more can be added. (More water can also be added if the need arises)
Nutrition