Jump to Recipe
One of the soups I learned from my Delta friend is Banga Soup, and it's presently one of my favourite soups.
It's also known as palm nut soup, it's mostly common in Delta state Nigeria and some other parts of Africa especially in Ghana. It's called Abenkwan in Ghana.
Before it became one of my favourite soups, I've heard so many people talked about the deliciousness of the soup, but I never showed interest.
But how come I wasn't even showing interest in the first place? As a foodie who loves trying new meals anytime any day. LOL
So, one day I visited my Delta friend who did me an everlasting favour by welcoming me into her home with Banga soup. She served the soup with correct Eba, Oh my my! This is what I've been missing!
The soup was absolutely perfect and fantastic. That was how Banga soup won my heart and included itself quietly as one of my favourite soup, and one of the easiest soup to make ever.
It's completely healthy and nutritious, packed with lots of vitamins which help in reducing the risk of health-related problems.
The combination of Palm-kernel, Banga spice, and the Oburunbbe stick (banga stick) is a match made in heaven. Those are the 3 key ingredients needed for the soup.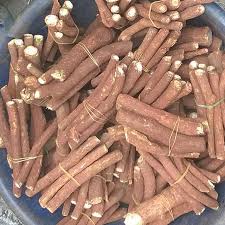 You can make this soup with any fresh fish, dry fish, or any meat of your choice. It could be assorted beef, beef, cow legs, cow tail, ponmo (cow skin), goat meat, smoked Turkey and so on.
It can be accompanied with any swallow of your choice: Starch, Eba, Fufu, Pounded Yam or White Rice
Fresh palm nuts vs can palm-nuts
On several occasions, I've heard people debated about which is the best to use for Banga soup. Some are of the opinion that the freshly made palm-nuts is simply the best with a distinctive taste compared to the store-bought palm kernel in the can.
I've used both interchangeably, and based on this experience, I'd say both are good to go for me. They're both great with perfect results.
Those who are in Nigeria have access to the fresh palm-nuts than those in the diaspora.
So if you're in the diaspora, continue enjoying your Banga soup with the store-bought palm kernel from the African shops, the end result is mouth-watering.
HOW TO PREPARE BANGA SOUP
Wash and season your meat or fish with seasoning cubes, curry, thyme, garlic, ginger, onions, and onions. Allow cooking until soft and tender to bite on. This should be based on your preference, use as you so desire. whichever you choose will come out perfect. This should be the first thing to do as we'll be using the beef stock later.
If you're using fresh fish, there's no need for boiling just season and set it aside.
If you're using the fresh palm kernel, wash and place it in a pot, add some water to cover. Cover with the lid and cook until soft or for about an hour. After it's well cooked, place in the mortal and separate the shaft from the nuts with a pestle.
The faster way to do this is by making use of your food processor to remove the shaft from the nuts. After the successful removal of the shaft. Add boiled water, make sure the shaft is well incorporated into the water as the water will serve as the base for the Banga soup.
After about 3 minutes, remove the water from the shaft through sieving.
If you're using the processed one in the can, just get it ready. we'll soon come back to it.
Also blend the onions with some water until smooth, and set aside.
If you like this recipe, you might also like:
Nigerian Goat Meat Pepper soup
How To Make The Best Nigerian Ogbono Soup
So, what are we still waiting for? Let's dive into the recipe right away while I introduce you to the best Banga Recipe ever garnished with some scent leaves.
Banga Soup
Banga soup also known as the palm-nuts soup is common in Nigeria, especially among the Delta people. It can be accompanied by starch, rice, fufu, eba etc.
Print
Pin
Rate
Ingredients
800 g palm-nuts

1

Orunbebe stick (Banga stick)

2

cups

beef stock

1

medim-size

1 medium-size Onion

70

g

Banga spice

2

tablespoon

grounded cray fish

1

cup

periwinkle (optional)

4 Seasoning cubecubess

1½

tablespoon

Cameroonian pepper/ 1-2 scotch bonnet (atarodo)

Salt to taste

fresh fish/ beef

assorted beef/ ponmo (cow skin)

handful of scent leaves
Instructions
Season your meat with some minced garlic, minced ginger, seasoning cubes, salt, onion, curry, and thyme. Allow cooking until soft, and tender to chew.

Place your pot on medium heat, add the palm nuts soup and, the Orunbebe stick (Banga stick) allow to boil for about 5 minutes

Add the beef stock. If you're using fresh fish add them at this point so as to start cooking in the soup

Add the blended onions, Cameroonian pepper/ scotch bonnet, and the Banga spice. Cover to simmer for about 3 minutes.

Add seasoning cubes, grounded crayfish, periwinkle, and salt. (taste before you add salt, don't over-salt the soup) Allow all to simmer for another 2 minutes.

At this juncture, add all the meat you're using at the same time, and stir in the soup. Cover and allow everything to be well incorporated in the soup.

Finally, add the scent leaves, allow to simmer for another 3 minutes.

Yah! Banga Soup is ready!

Serve hot with any swallow of your choice and enjoy.
Nutrition
Calories:
430
kcal
|
Carbohydrates:
12
g
|
Protein:
39.5
g
|
Fat:
34
g
|
Sodium:
186
mg
|
Potassium:
465
mg