Egusi Soup is native to the westerners in Nigeria (The Yorubas) but It's loved and enjoyed by most Nigerians. It's extremely enjoyable when paired with various fufu recipes: Semolina, cassava fufu, pounded yam and eba, even with white rice.
Majority of the Nigerians' occasion menus aren't complete without this delicious Egusi Soup. I'm sure it's one of those soups that normally top the menu lists in most parties/ occasions. Let me say, Egusi soup is a kinda special type of soup that some people also enjoy on a daily basis.
In the same vein, Christmas celebration and Egusi Soup are inseparable in most Nigerians home. They both go hand in hand to make the day complete and pleasurable. In fact Egusi soup and Efo-riro are my favourite soups for Christmas celebration.
Egusi Soup is being prepared using different methods. In this this write-up, I'm going to be using the frying method. It's my best method so far,trust me this particular method is tested and trusted. That's why I'm sharing it with you guys. You know I love sharing my best recipes with you guys *winks*
Any combination of meat and assorted meats can be used for the Egusi Soup: Beef, cow leg, Saki, Ponmo, goat meat, stock fish and dry fish. Feel free to combine any meat of your choice.
Cooking preparations
For faster cooking, I would advise to do some cooking preparations before the actual cooking starts because It actually saves a lot of time while cooking.
Wash the meats and season them with seasoning cubes, salt, garlic, ginger chopped onions, curry, and cook them until they are tender.
If you are using cow skin (ponmo), it's best to season them too and steam on the cooker for some minutes.
Soak your dry fish and stockfish for some hours ahead until they are soft. Debone the fish, wash them also, and set aside.
Blend tomatoes, red ball pepper, scotch bonnet pepper (Atarodo), and onions, set them aside.
Wash and Blend the Egusi seed too with water and also set aside or the one that had already been grounded.
Wash and cut the vegetables, you can use fresh Ugwu leaves, Spinach and bitter leaves for Egusi soup. I'll be using both spinach and bitter leaves for this recipe. It depends on the one available to you but any of these leaves are just completely fine.
Soak your bitter leaves too and rinse a bit to reduce the bitterness.
Blend one small onion and if you can not blend, chop it into smaller pieces and add it to Egusi seed to form a paste. Add the beef stock or water to mix, mix them together, and set aside.
Meanwhile, You may also like:
The Most Delicious Nigerian Efo- Riro
How To Make The Best Nigerian Ogbono Soup
You can also watch the video down below and I hope it helps.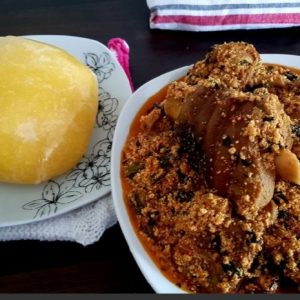 Egusi Soup
Egusi Soup is native to the westerners in Nigeria (The Yorubas) but It's loved and enjoyed by most Nigerians. It's extremely enjoyable when paired with various fufu recipes: Semolina, cassava fufu, pounded yam and, eba even with white rice
Print
Pin
Rate
Ingredients
1/2 cup vegetable oil

4 medium-size red ball pepper

2 big onions

2 scotch bonnet pepper (Atarodo)

Goat meat

Cowskin (ponmo) stock-fish, dry fish

Salt to taste

4 seasoning cubes

1/2 cup palm oil

2 cups grounded egusi seed

Beef stock

Handful of bitter leaves

2 teaspoon Uziza seed

2 tablespoon grounded cray fish

250-gram Spinach/ Ugwu leaves
Instructions
Place your saucepan on medium heat, add vegetable oil, diced onions, and locust beans (iru) stir well until they become translucent.

Add the blended ingredients. Cover to cook for about 7-8 (stir in between to avoid burning).

Remove the cover and start adding your seasoning, salt( be careful when adding salt, egusi absorbs salt easily) curry, grounded crayfish, and the uziza seed).

Add your varieties of meat and fish, cover to cook for another 5 minutes, then remove from the heat and set aside.

Grab another pot, place on medium heat, add palm oil. Then go-ahead to add the egusi seed, fry, and stir until the palm oil starts floating on top.

Remove the fried Egusi and stir it in the previous soup and mix both together thoroughly.

At this juncture, add the bitter leave first and allow it to cook for 3 minutes.

Finally, add your preferred leafy green: Spinach or Ugwu leave. Allow to cook on low heat for about 5 minutes before you stir.

Now stir everything together, and turn off the heat.

Your Egusi Soup is ready!

Enjoy with any swallow of your choice.
Nutrition