Love is one of the greatest forces in the world, sending your wife or girlfriend these love quotes for her means she means the whole world to you.
When you have someone to love, life is filled with meaning. Love is definitely beautiful.
Especially when you find the right lover whose values align with yours.
I mean, everything becomes more attractive and interesting: sunrises, music, birds… it's more fun when you're with the person you love.
So many good things happen. It makes you feel more confident, motivated, and inspired.
And as a man, you can never go wrong with some sweet quotes and love letters to the woman in your life.
You can write her cute love notes or romantic quotes to make her know your feelings are strong!
Since I am a poet, I have selected some of the most romantic quotes about LOVE
If you're looking for the perfect love quote to express your feelings to your significant other, look no further.
A list of some of our favorite quotes that we think will help you show how much you care. Enjoy!
(there are also some articles about these quotes for him, tips on how to make your girlfriend feel special, and also good morning love quotes).
Romantic Love Quotes For Her
Darling you are perfect in every way. There's no need to change a thing, your beauty shines from within and without. You are an angel sent from above to bless my life with your love.
You have no idea how fast my heart beats when I see you, without your love, I can do nothing, with your love, there is nothing I cannot do.
I love the way you look at things, yes it was certainly magic when I met you, so fun, so happy. Felt like I was flying, never to come down, I adore you so much my priceless angel.
Last night, I looked up in the sky and matched each reason with a reason why I love you, I was doing great until I ran out of stars.
I love you, and I will love you until I die, and if there's a life after that, I'll love you then.

– Cassandra Clare
You're my best friend, my shoulder to lean on, the one person that I can count on, you're the love of my life, you're my one and only, you're my everything.
Since I can't get you out of my head, then I know you're supposed to be there forever.
I don't want to be immortal, I want to come into this world again and again, just to live moment of falling in love with you.
If dying was the only way I could prove my love to you, I would agree to countless deaths.
When you realize you want to spend the rest of your life with somebody, you want the rest of your life to start as soon as possible.

– When Harry Met Sally
Love is what happened when I met you. Life is what happened when I loved you.
Babe, thank you for always making me feel like the best man in the world. I love how you make me feel, like anything is possible, or like life is worth it.
When I tell you I love you, I am not saying it out of habit, I am reminding you that you are my life.
And suddenly all the love songs were about you. You are my best friend as well as my lover, and I do not know which side of you I enjoy the most. I treasure each side, just as I have treasured our life together.
If there has to be a reason why I love you…I will only say it's because 'you are you'
You're my best friend and we've been inseparable. You make me see things I've never seen before; you make me do things I've never done before. It took me a while to finally realize that I'm completely in love with you – really head over heels in love with you. And there's no feeling quite like it.
I love you…not from the bottom of my heart, but from the core of my soul.
They say 'love never dies' I say 'it's your love that will always keep me alive, even when I'm not there in this world anymore.
When I wake up and see you lying next to me, I can't help but smile. It will be a good day simply because I started it with you.
Every time I see you, I fall in love all over again. I'm yours if you'll be mine forever.
Happiness is what I feel whenever I'm with you, complete is what I feel when you're with me.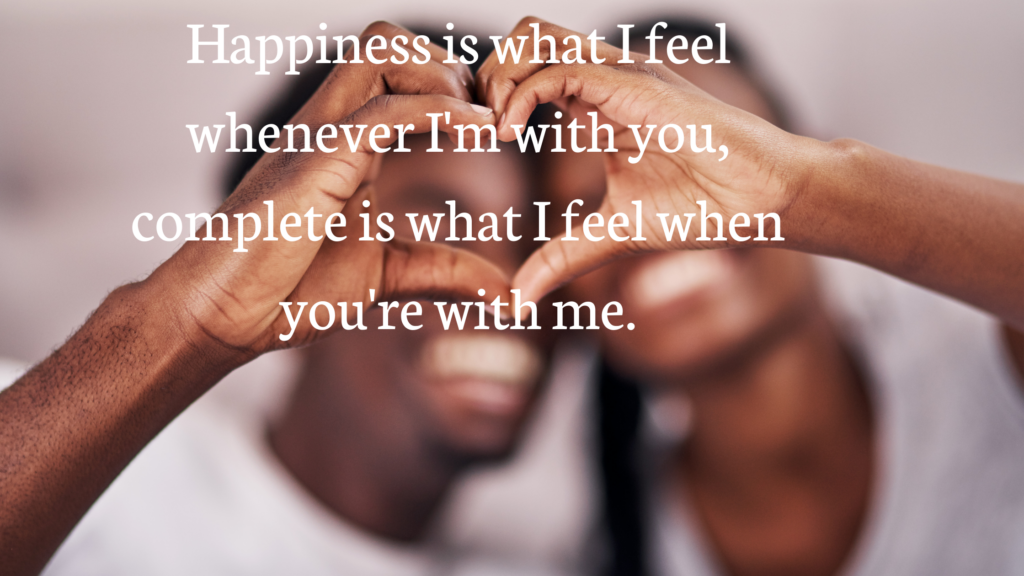 You are the source of my joy, the center of my world and the whole of my heart, my favorite place to go when my mind searches for peace.
If it wasn't for you, I would never have believed angels existed.
Every time I see you, I fall in love all over again. You are the best thing that's ever happened to me. End of story.
I can see my whole life in your eyes…my past, my present and most of all, my future.
Missing you is my hobby, caring for you is my job, making you happy is my duty and loving you is my life.
I never knew how to live, until I knew how to love…you!
Loving you has made me realize how beautiful life is really is and how much I want to be a part of this world, the world in which you live my queen.
I am catastrophically in love with you. Your presence in my life makes me the happiest, most grateful and luckiest person in the world.

You are the person I want to talk to when I have a piece of good news because you give me the best advice, I can't promise to fix all your problems but I can promise that you won't face them alone.

Being someone's first love may be great, but to be their last is beyond perfect, you are my sunshine on a rainy day.

You make my soul feel at home and in a place of peace, no woman will ever replace you. l love you.
I am grateful for every day that l get to spend with you, my beloved, you are one of the best things that have happened to me.
l know in my heart that there is no other woman in the world who could ever satisfy me the way you do.
I love you without knowing how, or when, or from where. I love you simply, without problems or pride.'

-Pablo Neruda
50+ Sweet & trending good morning messages for wife

Romantic good morning texts for her
You are the queen of my heart and soul, the one who takes all of my pains away and give me a good reason to be thankful every day.
Before I met you, I never knew what it was like to look at someone and smile for no reason. You are my paradise and I would happily get stranded on you for a lifetime.
If there were something such as reincarnation, I will still choose you. No doubt, no hesitation. My night has become a sunny dawn because of you.
Even though we're far apart, you are always on my mind and in my heart.
When I first saw you, I fell in love with you and you smiled because you knew.
Since the day we met, our lives have been entangled in every way possible. Never before have two people been meant for each other as much as we are meant for each other.
I wish I could turn back the clock. I'd find you sooner and love you longer.
I choose you. And I'll choose you over and over and over. Without pause, without a doubt, in a heartbeat. I'll keep choosing you.
I saw that you were perfect, and so I loved you. Then I saw that you were not perfect and I loved you even more.

-Angelita Lim
I love you not only for what you are, but for what I am when I am with you. I love you not only for what you have made of yourself, but for what you are making of me. I love you for the part of me that you bring out.
So it's not gonna be easy. It's going to be really hard; we're gonna have to work at this everyday, but I want to do that because I want you. I want all of you, forever, everyday. You and me… everyday.
The best and most beautiful things in this world cannot be seen or even heard but must be felt with the heart, that's why I want to keep you in my heart forever my sweet love.
You are my soul mate, my sweetheart, you are my dream come true, from now until the end of time I give my heart and soul to you.
I would rather spend one lifetime with you, than face all the ages of this world alone.

-J.R.R. Tolkien
The first time you touched me, I knew I was born to be yours and I will love you until the stars go out.
I seem to have loved you in numberless forms, numberless times… In life after life, in age after age, forever.

―Rabindranath Tagore
In all the world, there is no heart for me like yours. In all the world, there is no love for you like mine.

–Maya Angelou
There are many ways to express your love for another person, and these quotes are just the beginning.
The quotes will make the woman in your life fall in love with you.
If you want to send more than just a message, try sending flowers or balloons as well!
Women generally fall in love through the eyes, and these quotes will definitely win her admiration.
The more time we spend with someone special in our lives, whether it's family members or friends.
The more important it becomes for us all to remember how much we all mean to each other on any given day!