30 Sweetest Romantic Love Quotes For Him To Make Him Feel Like A king
The power of love quotes in any relationship can not be underestimated. These words are so powerful and should be used regularly to keep the fire of your love burning. These sweetest romantic love quotes for him will make him stay glued with you forever.
Let him know through your verbal expressions, how deeply and truly you love him. Love expressions are better explained through quotes.
Honestly, when you're truly loved, you always feel like a newborn baby, who hasn't been through any of the world's challenges.
To me, love is the sweetest thing ever, especially when the feeling is mutual.
These beautiful love quotes can keep that feeling forever.
So why not make him feel special through these sweetest romantic love quotes for him ever.
Use them from time to time, and take your relationship to the next level by winning your man's heart forever. Make him feel like a king and watch him treat you like the queen you are.
Romantic Love Quotes For Him
1.
"My love for you has no depth, its boundaries are ever-expanding. My love and my life with you will be a never-ending story."

Christina White
2.
"Come Live with me and be my love, And we will all the pleasures prove, that valley, grove, hills and fields, woods and steepy mountain yields."

Christopher Marlowe
3.
"Kiss me and you will see how important I am"

Sylvia Plath
4.
"I have for the first time found what I can truly love–I have found you. You are my sympathy–my better self–my good angel–I am bound to you with a strong attachment. I think you good, gifted, lovely: a fervent, a solemn passion is conceived in my heart; it leans to you, draws you to my center and spring of life, wrap my existence about you–and, kindling in pure, powerful flame, fuses you and me in one."

Jane Eyre
5.
"You are my heart, my life, my one and only thought

Arthur Conan Doyle
6.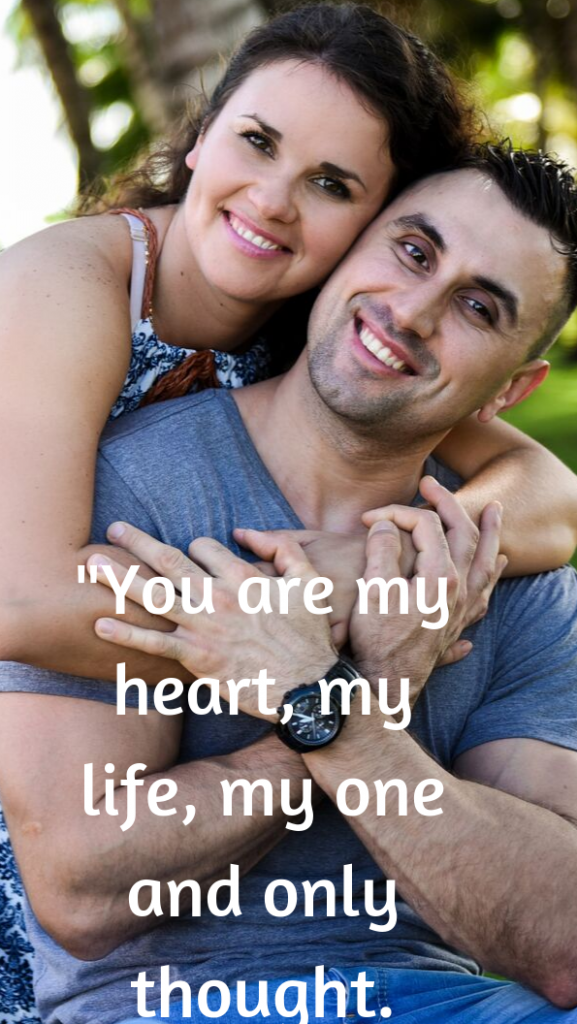 "I never loved you any more than I do, right this second. And I'll never love you any less than I do, right this second."

Kami Garcia,
7.
"No matter where I went, I always knew my way back to you. You are my compass star."

Diana Peterfreund
8.
"I never thought love could be so magnificent until I saw the sincere look in your eyes, telling me that this time¦ I would never shed another tear."

Elle
9.
"If I had a flower for every time I thought of you … I could walk through my garden forever."

Alfred Tennyson
10.
"I don't wanna close my eyes, I don't wanna fall asleep, cuz I'd miss you babe and I don't wanna miss a thing."

Aerosmith
11.
"The water shines only by the sun. And it is you who are my sun."

Charles de Leusse
12.
"To lose balance sometimes for love is part of living a balanced life."

Elizabeth Gilbert
13.
"There are only two times that I want to be with you. Now and Forever."

lifehacks
14.
"I love you begins by I, but it ends up by you."

Charles de Leusse
15.
"I love you as certain dark things are to be loved,

in secret, between the shadow and the soul."

― Pablo Neruda
16.
" Loving you never was an option. It was a necessity"

Truth Devour
17.
"Being In Love With You Makes Every Morning Worth Getting Up For"

Lifehacks
18.
"Love is a better teacher than duty."

Albert Einstein
19.
"I saw that you were perfect, and so I loved you. Then I saw that you were not perfect and I loved you even more."

Angelita Lim
20.
"Alone we can do so little; together we can do so much."

Helen Keller
21.
"Your words are my food, your breath my wine. You are everything to me."

Sarah Benhardt
22.
"You are my best friend as well as my lover, and I do not know which side of you I enjoy the most. I treasure each side, just as I have treasured our life together

― Nicholas Sparks
23.
"You are, and always have been, my dream."

― Nicholas Sparks
24.
I carry your heart with me (I carry it in my heart)I am never without it (anywhere

E.E Cummings
25.
"If you remember me, then I don't care if everyone else forgets."

― Haruki Murakami
26.
"It was love at first sight, at last sight, at ever and ever sight"

Vladimir Nabokov
27.
"If music be the food of love, play on,
Give me excess of it; that surfeiting,
The appetite may sicken, and so die

― William Shakespeare
28.
"You here to finish me off, Sweetheart?"

― Suzanne Collins
29.
"I love you the way a drowning man loves air. And it would destroy me to have you just a little."

Rae Carson
30.
"Ever since the day you came into my life, I know you're the only one I'll truly love to an end."
READ ALSO:
Love Quotes For Husband: 35 Heart Touching Quotes For Husband To Make Him Feel On Top Of The World