Nigerian Buns are one of the popular street snacks in Nigeria and loved by most Nigerians. Nigerian Buns are so delicious especially when they're well prepared by following or using the right Nigerian Buns recipe.
I could remember when I was going hard on my self because I couldn't make it at home to taste just the way I had wanted it. I love it when it's crispy and crunchy on the outside and the inner part of my Nigerian Buns is moist.
I think that's the way most people want it anyways. It tastes incredible yummy when it's crunchy and crispy on the outside and moist on the inside.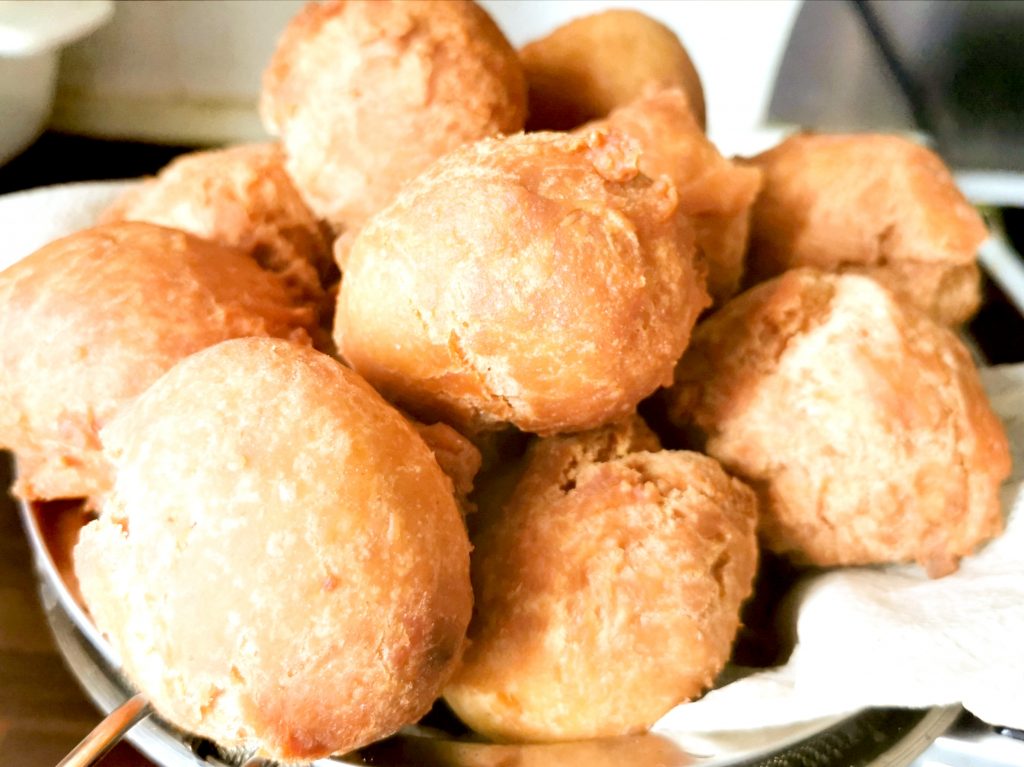 Meanwhile, I love homemade foods. There's this feeling that I normally have whenever I'm doing something right especially when developing my recipes with an outstanding outcome.
I won't give up on any recipe I love, never! I must finally get it right even if it takes me so many months to get it right. So, guys, you can imagine the feelings, when I finally developed this perfect Nigerian Bun recipe.
Moreover, I'll also like to note that, Nigerian Buns can be tricky, If it'snot properly mixed or when the measurements are not accurate.
These Buns taste so good and nice especially when this recipe is followed to the letter. I used simple ingredients that you can easily find in your kitchen and you'll achieve perfect results.
Let me quickly answer some questions regarding Nigerian Buns.
CAN I BAKE NIGERIAN BUNS
Absolutely no! The only way is to fry it. You can't have crispy and crunchy buns by baking it. You can only fry.
WHAT IS THE FRYING TECHNIQUE OF NIGERIAN BUNS
I've seen so many people complained of uncooked buns. Sometimes they complained of their buns getting soaked in the oil, thereby messing up the whole thing.
The best way to fry the buns is by making sure your frying oil is on medium heat. Not too hot and not too warm. Try to be regulating the heat temperature, if you discover that it's getting too hot, reduce the heat.
Immediately you realise the temperature is going down, you can increase it again.
In this way, you'll be sure you are doing it right. Allow the buns to fry for a minimum period of 8 minutes. It takes longer time to fry than the Nigerian Puff puff.
HOW CAN I PRESERVE MY BUNS
You can preserve it in the refrigerator in a tight container for 5-6 days without getting bad.
You can reheat in the microwave by using the lowest temperature for 1 minute.
If you plan to have the buns for your breakfast, make sure you have a cup of hot tea for maximum satisfaction. And if you're planning to have it for lunch, get your chilled drinks ready and enjoy!
I'll also share a video below, where I'll take you through step by step process of my Nigerian Buns Recipe.
If you like this recipe, you might also like:
So let get down to work!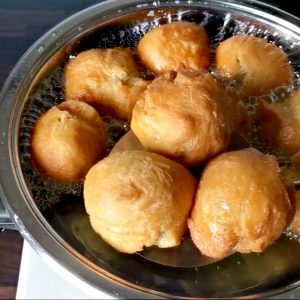 Nigerian Buns Recipe
Nigerian Buns recipe tastes incredible yummy when it's crunchy and crispy on the outside and moist on the inside. It's a popular snack.
Print
Pin
Rate
Ingredients
500 G Flour (3.5 cups)

½ Cup of Sugar

1 tsp Nutmeg ( You can substitute for Cinnamon or Vanilla flavour extract)

2 tsp Baking powder

½ tsp salt

3 tablespoon melted butter

1 tsp sunflower oil or any vegetable oil

2 eggs

1 cup of reduced-fat milk or water
Instructions
Combine all the dry ingredients and mix thoroughly: flour, baking powder, nutmeg, salt, and sugar

Make a well in the middle to start adding the wet ingredients.

Add the melted butter, sunflower oil, and egg. Give them a good mix.

Start adding your milk or water bit by bit until the right consistency is achieved. (Buns dough should not be too soft).

Cover and leave to rest for 5-8 minutes at room temperature.

On medium heat, place your frying pan, and pour your frying oil. (The oil should not be too hot or warm. If it's too hot, it will be left uncooked and if is too warm, it will soak the oil).

Start scooping the dough in the oil.

If one side is golden brown, flip to the other side. (It takes between 10-12 minutes to fry)

When both sides are golden brown, remove and drain.

Enjoy with any chilled drinks of your choice.
Video
Nutrition
Calories:
155
kcal
|
Carbohydrates:
17.5
g
|
Protein:
8
g
|
Fat:
3
g
|
Saturated Fat:
1
g
|
Cholesterol:
54
mg
|
Sodium:
223
mg
|
Sugar:
6
g