As a teenager, I hated Nigerian fish roll with passion. I couldn't be caught touching fish roll with a long pole. My favourite snacks then were puff-puff, meat pie and chin-chin.
The major reason I didn't like the it was because it was too hard to bite and chew. Why should I develop toothache /on top/ snacks? I love my snacks flaky, crispy, crunchy, and soft.
However, my beef for fish roll eventually came to an end when I visited my aunt in Abuja. She's a die hard fan of fish roll and she makes it so well. She took me through the process of making freshly baked homemade fish roll. Guys, it tasted heavenly!
That was how I added it to the list of my favourite snacks.
I left Abuja feeling like a star with my new found recipe and new found love for fish roll.
But, as a recipe developer, I kept experimenting until I found a richer and more delicious recipe which I'll be sharing with you.
Enough of my story. Let me answer some frequently asked questions about Nigerian fish roll:
Can I bake my Nigerian Fish Roll
Yes, you can. It can be baked just like our almighty Nigerian Meat Pie. I understand that some people try as much as possible to reduce their calories in take thereby opting for baking instead of frying. To be honest,

If you really want your it flaky and crispy, the frying method is the best. You can also bake it, if that is what you'll prefer.
Can I add sugar and pepper
They are both great as much as Nigerian fish roll is concerned. However, make sure they are not added in excess.
I love Cayenne pepper so much, so I use it most times for my recipe.
Which one is better? Milk or Water.
You can use only water or only milk to mix the dough, but I prefer to use milk because I love the outcome. You can use whole milk all through or evaporated milk plus a little bit of water.
It is delicious when you follow the right recipe. It's soft to bite and chew.
I present to you the best Nigerian fish roll recipe.
If you like this recipe, you might also like:
Best Soft Homemade Doughnuts Recipe
For more detail, you can also watch this video.
You Might Also Like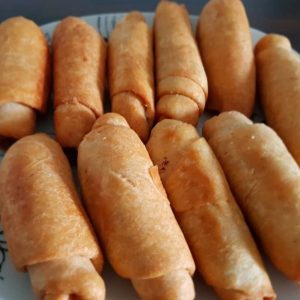 The Best Nigerian Fish Roll Recipe
Nigerian fish roll is delicious when you follow the right recipe. It's soft to bite and chew.I present to you the best Nigerian fish roll recipe
Print
Pin
Rate
Ingredients
INGREDIENTS FOR THE DOUGH
500

Grams

Flour

1/2

teaspoon

Salt

1/2

teaspoon

baking powder

1

teaspoon

Nutmeg (optional)

2

tablespoon

Sugar

200

Grams

Margarine or butter or 50/50

2

eggs

100 ml evaporated milk or fresh or water

Vegetable oil for frying
INGREDIENTS FOR THE FILLING
2-3

Tablespoon

Vegetable oil

1

small

Onions

1/2

teaspoon

Cayenne pepper

1/2

teaspoon

Oregano

1/2

Teaspoon each

Curry & Thyme

Salt to taste

1

medium-size Fried Mackerel

1

Can Sardine in Tomato sauce
Instructions
INSTRUCTIONS FOR THE FILLING
Remove the bones in the mackerel, shred it into small pieces and set aside.

.Add the vegetable oil in the sauce pan on a medium heat. 

 Add the diced onions, add curry, thyme, garlic, cayenne pepper, and oregano and stir everything together and allow to simmer for about 1 minute.

Add the set aside fried mackerel and stir.

Add the sardine in tomatoes sauce to the above mixture.

Fry everything for about 5 minutes and remove from the heat to cool down.
INSTRUCTIONS FOR THE DOUGH
Mix all the dry ingredients in a mixing bowl (flour, margarine/ butter, nutmeg, salt and sugar). You should either use a stand mixer, spatula or whisk if you don't want to use your hands but nevertheless hand does the job better.

Add the milk to the dry ingredients, then add  the water bit by bit until the dough is properly  formed. The reason I suggest bit by bit is because the consistency of our margarine or butter may differ, so add according to the texture of your dough and stop when the right consistency has been achieved.

Remove the dough from the bowl and drop it on a floured surface and knead until smooth but don't over knead the dough. 

Drop it back in the bowl and cover with a neat kitchen towel or clingy film or foil and allow to rest for about 30-40 minutes at room temperature.

Take it out and drop it on the rolling mat or a floured clean surface, divide it and start rolling out with a rolling pin.

Add about 1 teaspoon of the filling and roll.

Repeat the process until you roll out all the dough.

Fry until it is golden brown.

Enjoy and serve! Enjoy with any drink of your choice – water, juice, soda, tea  or coffee.
Nutrition
Calories:
174
kcal
|
Carbohydrates:
23
g
|
Protein:
5
g
|
Fat:
6
g
|
Saturated Fat:
3
g
|
Cholesterol:
24
mg
|
Sodium:
244
mg
|
Potassium:
73
mg
|
Fiber:
1
g
|
Vitamin A:
3.5
IU
|
Vitamin C:
0.3
mg
|
Calcium:
3.5
mg
|
Iron:
8.9
mg