The sun is setting, and what a lovely way to end the day than with beautiful good night messages for your love.
Whether you're sending a message to your long-distance lover or one who's right by you, they can benefit from a reminder that they are in your thoughts before sleep.
Not only will it soothe their soul through the night, but it may also be just enough to get them through a tough day at work or school even.
Although there's no substitute for the feeling of being close to each other physically, an emotional connection is still necessary; this is just one more way of reminding them how much they're loved and how important he/she is in your life.
So why not take a moment to tell those three little words that mean so much: "Good night".
Here's a list of good night messages that can add that extra oomph to your cherished relationship.
You might want to go overboard with your good night messages for them the next time you feel the urge.
Good night messages for love
1.) A million stars up in the sky one shines brighter I can't deny a certain feeling inside me it feels like butterflies all the while my thoughts are with you tonight so sleep tight…goodnight!
2.) As long as I have a hand to hold, a shoulder to lean on, a friend like you to fall back on, no matter what happens or what comes along, everything will always be just fine. Good night my sweetest!
3.) My love for you grows higher each day; my love for you grows deeper and deeper each night.

4.) I wish a sweet dream were enough to bring me closer to you, but as it turns out, I need you close to me by holding me in your arms.

5.)There was nothing I liked more than talking to you. Now there's nothing I want more than to talk to you again. Good night.

6.) I would never let the stars feel lonely, so I have given them the most precious thing I could ever give – You. Goodnight my star.

7.) Kisses from afar are sweeter than kisses in person because they keep our dreams alive. Good night, sweetheart!

8.) No matter how far away from each other we are, we are still close in our hearts. So wishing you goodnight my love!

9.) Being in love is one of the best things that can happen to anybody. So let this feeling never ends and give my love a tight goodnight hug!

10.) Love is the only thing which doesn't cost anything but still gives a lot of happiness when given to someone special like you. Good night my love!
11.) I know it's late and I shouldn't be bothering you, but I can't go to bed without telling you how much I love you! Sweet dreams!

12.) Every night when I go to sleep, I miss you, and cannot wait until we can be together again. Sweet dreams!

13.) No matter how bad dreams are or how sad stories are, I will always be here for you because who else can take care of my cutie pie better than me? Sweet dreams to my angel. May all your dreams and wishes come true.

14.) Before I go to sleep, I always think of one special person – the person who makes me feel special in every possible way. That's you my darling! Good night!

15.) I hope you know how much I love you and how much I treasure every single moment that we spend together. You are my world, goodnight my love!
16.) As much as the sun loves the day, and the moon loves the night, I love you. Sleep well tonight.

17.) As the sun sets and darkness takes over let me remind you that my love for you is deeper than the ocean and it will never end. Good night love!

18.) Look outside at the stars as they shine brightly in the sky, just like my eyes every time they look at you and your smile. Good night.
19.) I wish I could be there to hold you tight, instead of just sending you this loving "Good Night".
20.) I don't care how far we are from each other. You're always in my thoughts. Good night Sweetheart. Have a nice sleep.

21.) A day is going to end again. It is nice to have someone like you making every day seems so great. Thank you my love and may you have a good night's rest. Sweet dreams!

22.) Even though the days are busy and years go by quickly, the memories of our friendship have remained special and close to my heart. Goodnight the love of my life!

23.) Your cute smile makes me crazy. Your sweet laugh gives me butterflies. Your innocence makes me love you more! Have a precious sleep, my dear Sweetheart!

24.) The darkness of the night hides a lot of things, but it cannot hide the love I have for you in my heart. Good night dear!
25.) The moon is shining in the sky and shining in our hearts. You are my star, I will love you forever. Good night sweetheart!

26.) The night wind is blowing, but I miss you every second. I want to be with you, hold your hand and fall asleep. Good night sweets!

27.) I wish you a long night's sleep and pleasant dreams! In the morning, when you wake up, think of me, because I'll be thinking of you every minute!

28.) The world has become dark and moonlit but my heart is full of light and love. Good night dear!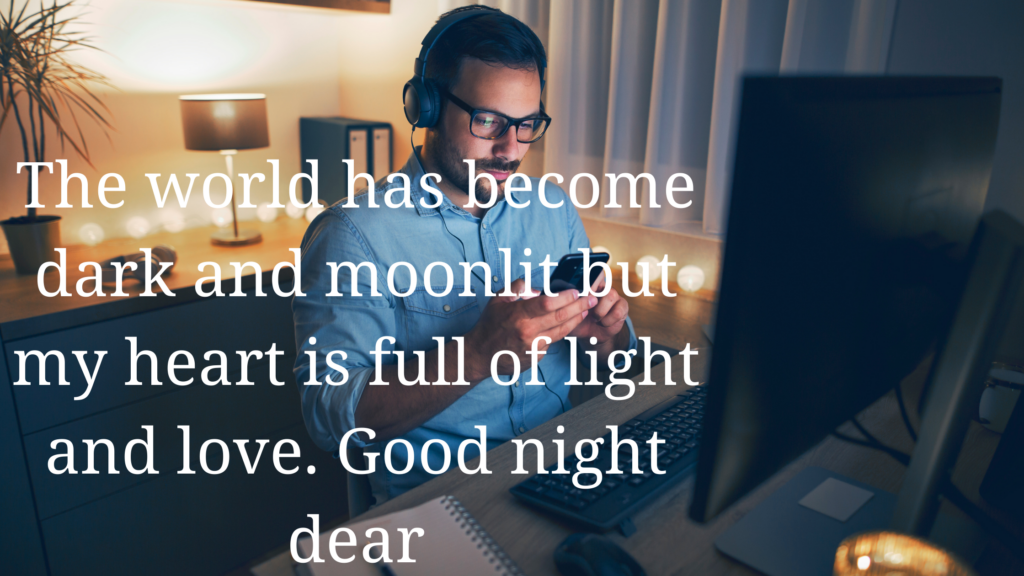 29.) The day passed by too quickly. But we will see each other soon again. You are always with me dearest, I love you so much. Have a nice dream!

30.) When it gets dark outside, I feel close to you and your heart beats faster. Be happy because my heart belongs to you forever.

31.) Without talking to you, the day is incomplete. And without seeing your face, my dreams are also incomplete. Good Night my love!

32.) On this beautiful night, I pray that the moon brings you an amazing dreamland trip, you're my everything and so much more, good night to you my sweet love.
33.) Sleep well tonight and know that your life is precious and beautiful. May all your dreams come true for someone as special as you are!

34.) Baby, let's jump into bed and dream about our future together and all the wonderful things we will do, close your eyes, think of your favorite place, picture me there and remember that I will always love you no matter what.
35.) You are the reason why I have sleepless nights. You are the reason why I tend to hold my pillow tight. And you are the reason I can't sleep without saying goodnight."

36.) A relaxing sleep is waiting for you, so close your eyes and go to sleep because tomorrow is going to be a bright and busy day.

37.) Dreaming of your smile is often the only thing that gets me through the night, would walk a million miles just to be with you. Goodnight, honey!"

38.) A kiss is just a kiss till you find the one you love. A hug is just a hug till you find the one you're always thinking of. A dream is just a dream till it comes true. Love was just a word till I heard it from you. Good night…!!

39.) You have no idea how much I am missing you right now! I wish I could fall asleep in your arms.

40.) I cannot wait for the day when I will lie down beside you and hold you tenderly in my arms. Good night, my love.

41.) I never go to bed without thinking about you. You are the last thing that crosses my mind before I close my eyes and see dreams about you, which is why I sleep with a smile on my face every night.

42.) Feeling lonely and miserable without you here by my side. Hope to see you soon, my love! Good night and sweet dreams!

43.) Tonight, as always, I will fall asleep with you in my heart. Sweet dreams and goodnight!

44.) Every day of my life is perfect because it starts by wishing you a good morning and ends with wishing you a good night. One day, we will never have to say goodbye, only goodnight

45.) Falling asleep knowing that you are my partner in life, still gives me butterflies every night!

46.) I Can't wait to fall asleep because my dreams are filled with thoughts of you!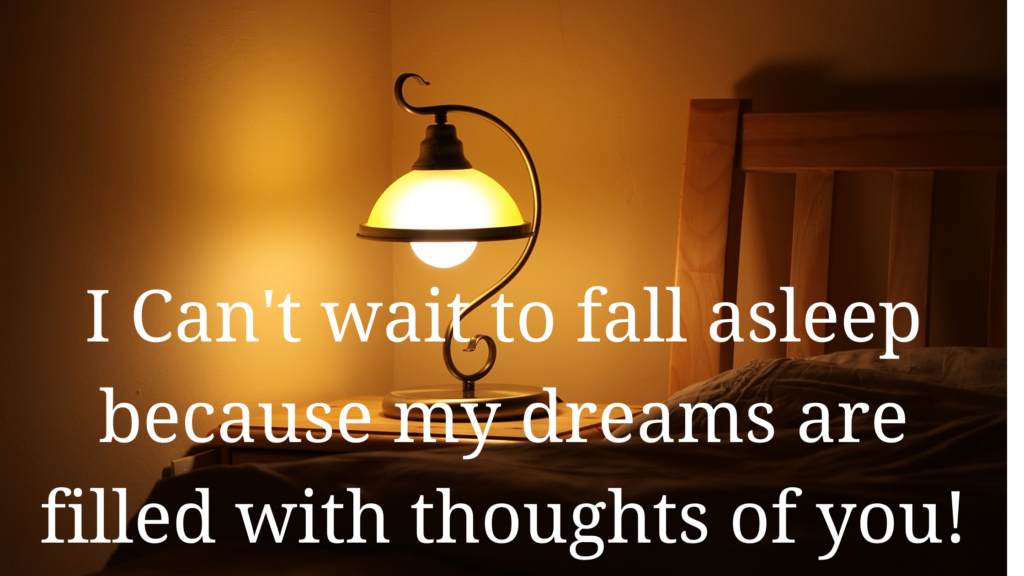 47.) I wish there was a word more special than love itself to let you know how special you are to me.

48.) I just wanted to let you know that you're the only thing that keeps me going throughout the day. You keep me sane. Goodnight, you're a wonderful person.

49.) I am counting each and every second until we meet again. I hope the night is as peaceful for you as you have made my life.

50.) The sun has set, the moon has risen, and all is well with my world.
I just want to cuddle with you tonight.

51.) As soon as I get home from work tonight, I'm coming straight over. No matter how bad of a day I had, when I lay down next to you at night it all goes away—it all goes away because of you.
52.) The last thing I see before I fall asleep is your beautiful face—tonight will be no different.

53.) I can't wait to be with you again, thinking of you keeps me awake, dreaming of you keeps me asleep, and being with you keeps me alive. Good night and sweet dreams to the guy who makes my days bright.

54.) Don't feel lonely, the whole world is sleeping, and I am still awake thinking of you.
55.) Goodnight my love. Sweet dreams, sleep tight my love. May tomorrow be sunny and bright and bring you closer to me.

56.) I can't wait to close my eyes tonight because I knew that's when I'll be dreaming about you. I really wished that we could fall asleep together. Goodnight, sweet dreams baby.

57.) Here is a little good night message for the best boyfriend in the world. You make me the happiest girl in the world. Sleep tight and I will see you in the morning.

58.) My nights are so long and restless because they lack you lying next to me. Rest well and know that I am thinking of you until we are together again!

59.) Good night my love, pleasant dreams, sleep tight my love, may tomorrow be sunny and bright and bring you closer to me.

60.) You are the most amazing man I have ever known, seeing your face always puts a smile on mine, wishing you a wonderful night full of restful sleep that will help you get through the day ahead!

61.) The thought of being with you tomorrow is what helps me through today!
Good night my dear love! Close your eyes and go to bed.

62.) Time to close your eyes and drift away into a deep sleep. May the angels watch over you and keep you safe through the night.
63.) Goodnight and sweet dreams, I'm counting down the hours until we see each other again.

64.) As I lie in bed looking at the bright moon, I begin to think of all our future together as a couple. May we never part as long as the stars shine upon the sky. Goodnight honey, sweet dreams!

65.) When I go to bed tonight, it will be with a smile on my face and joy in my heart because I know that tomorrow when I wake up I will still be in my amazing paradise with you.

66.) As the moonlight dims and the world goes quiet, give yourself some rest. Here's to hoping that your sleep is as sweet as you are.

67.) The night breeze is blowing through my hair and the soft touch reminds me of your kisses. I wish I didn't have to miss you this much."

68.) I'm sending you a warm hug from my heart, a kiss to keep you sweet dreams, and an SMS telling you that I'm thinking about you before I sleep. Good night!
69.) Tonight I will fall asleep with a smile because I know that tomorrow morning I'll be waking up next to the love of my life."

70.) I don't know what is more romantic: looking at the stars together or realizing how blessed we are in each other's company. Good night.
71.) Though I just said good night to you minutes ago, I never get tired of telling you how special you are in my life. You mean everything to me, darling. Good night and have pleasant dreams!
72.) This bright moon is so lonely without you… it's asking me to convey to you that it's shining as brightly as ever, just for you. Good night and sweet dreams!
73.) I love you so much that I even forget about the stars because when I look at your eyes, I feel like I'm already among the stars. Good night!
74.) It's hard not thinking of you all day… and even more difficult pretending not to think of you all night. Can't wait to be by your side again. Until then… good night!
75.) For several nights now, we've been sleeping apart from each other… but don't worry my love, for soon we'll be together again in our favorite place, under the stars, and under the moon – in our own little paradise. Good night honey!
Read more on the blog
30 Deep True love quotes And Sayings For Lovers
101 Romantic And Cute Good Morning Texts For Him
35 Extremely Sweet Good Morning messages For Girlfriend
107 Romantic Good Morning Texts For Her