Nigerian foods consist of dishes from the different ethnic groups in Nigeria. Nigeria has a diverse and rich culinary tradition that consists of spices, herbs, palm, and groundnut to make enormously flavored sauces and soup.
The country just like most of the West African countries has one of the best dishes in the world, they have different varieties depending on what part of the country one comes from.
So if you'd love to enjoy mouth-watering foods that'd wow your taste bud, I think you should consider traveling to Nigeria to experience this aspect of Nigerian culture in a dynamic way.
Here are the top 25 popular dishes in Nigeria that you should know and perhaps give them a try and see that the lord is good. Lol
Fried Rice is one of the most delicious and easiest Nigerian Dishes. It's a common dish at Parties/Occasions in Nigeria, it's also common in Nigerian parties in the diaspora. Nigerians home and abroad cherish this special delicacy so much alongside almighty our Nigerian Jollof Rice which is loved and eaten across all the countries in West Africa.
Looking for easy to follow and delicious fried rice recipe, get it here.
Jollof rice is enjoyed by the majority of African countries, especially Nigeria. We refer to it as Nigerian Jollof Rice. l don't think there's any Nigerian home and abroad who doesn't like Jollof Rice. Parties and occasions without Jollof Rice is that one a party? Lol.
This's just to say the extent to which Nigerians love their party Jollof Rice. It is extraordinary delicious especially when it gets burned, we don't joke with it at all.
Click here to get the recipe
Moimoi is also an outstanding dish in Nigeria. It's one of the Nigerians best delicacies. It's a steamed bean pudding with a mixture of beans and other ingredients: red ball pepper, chili (Scotch bonnet) onions, fish, liver, and Shrimps. Including some other spices for additional flavor.
Moreover, Nigerian Moimoi is always on the parties' menu lists in Nigeria, which can be enjoyed as a main dish or as a side dish to other menus such as Jollof Rice, Fried rice, on Christmas day and on some special occasions.
Click here for the recipe
Egusi soup is quite popular among various Nigerian foods. Christmas celebration and Egusi Soup are inseparable in most Nigerians home. They both go hand in hand to make the day complete and pleasurable.
In fact, Egusi soup and Efo-riro are my favorite soups for the Christmas celebration. You can serve with any swallow meal of your choice. Click here if you're interested in the recipe.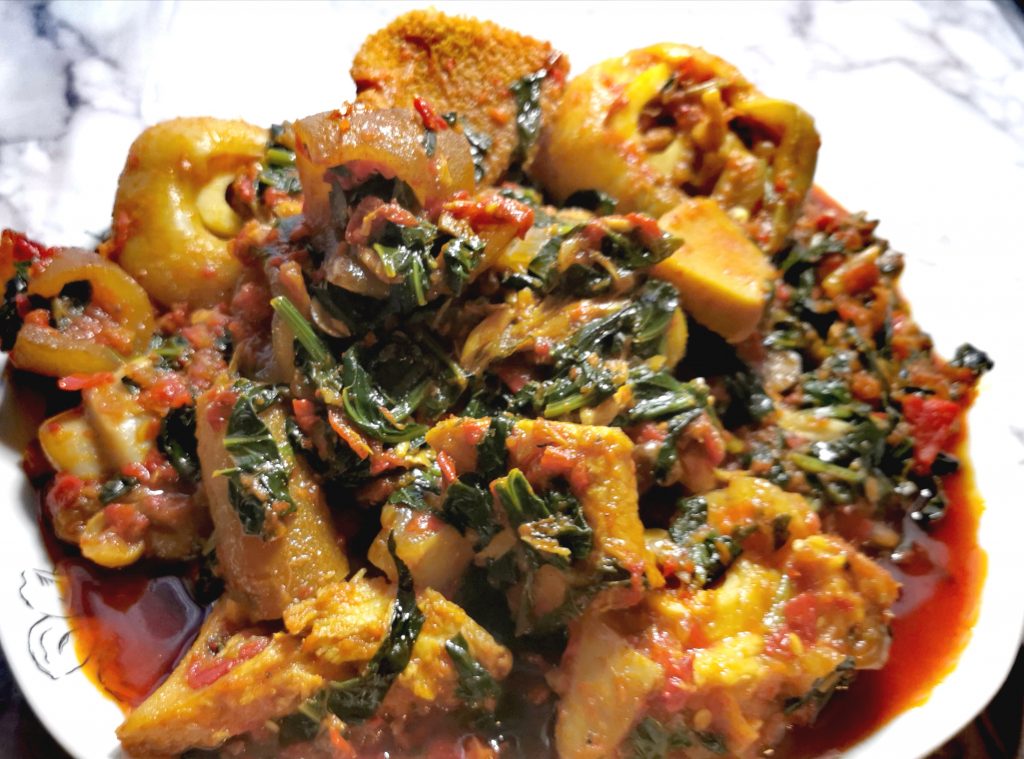 Efo-riro is a soup that is loved by all, even by non-Nigerians. Nigerian parties/events are never complete without efo-riro. It's served alongside with swallow meals like Pounded yam, Fufu, Eba, Amala and even with white rice. Click here for the recipe.
When you know how to make Nigerian Ogbono soup, you are also improving your well-being. It is a draw soup and delicious.
Nigerian Ogbono soup contains highly nutritious contents such as calcium, magnesium, potassium, iron, and protein among other vital nutrients.
Eat with any swallow of your choice: Pounded yam, Fufu, Semolina, Eba, Amala, and so on. Get the recipe
Banga soup is absolutely perfect and fantastic. It's completely healthy and nutritious, packed with lots of vitamins which help in reducing the risk of health-related problems.
It's also known as palm nut soup, it's mostly common in Delta state Nigeria and some other parts of Africa especially in Ghana. It's called Abenkwan in Ghana. If you'd love to know how to prepare this delicious Nigerian Soup click here.
Yam porridge is the combination of fresh Puna yam and tomato sauce. It's mostly enjoyed by most countries in West Africa especially Nigeria.
You can enjoy this menu on any occasion and also during festive periods.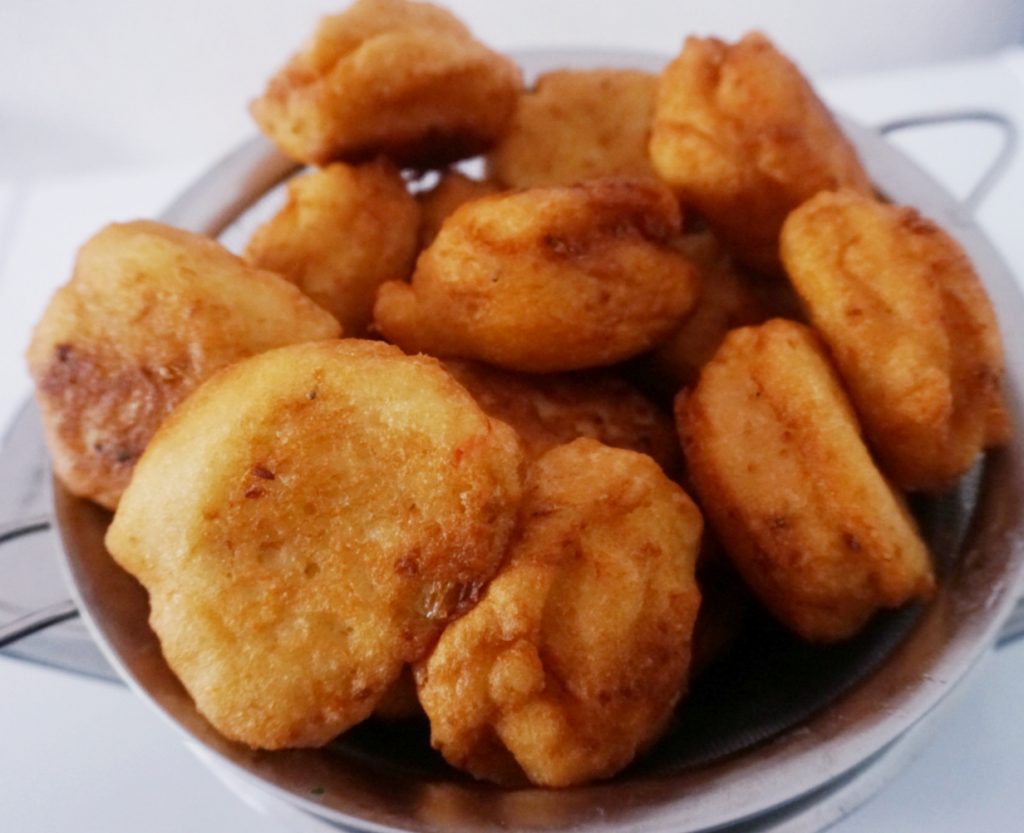 Nigerian Akara also is known as beans cake. It's easy to make and it's absolutely delicious. While growing up, Akara used to be one of those special delicacies for Christmas and new year's eve in my home.
Akara recipe, check it out.
10 Pounded Yam
Pounded yam is a popular dish in Nigeria and quite popular among different ethnic groups but the westerners cherish it and eat it more than the other tribes. Pounded yam can't be eaten alone, it must be accompanied with soup. Some of the popular soups are Ogbono soup, Egusi soup, and Efo-riro(spinach soup).
11. Garri/ Eba
Ẹ̀bà is also a staple food mainly eaten in West African Nigeria. It is made from dried grated cassava flour, known as Garri. Just like pounded yam, you need soup to accompany the Eba for an easy and smooth transition from the mouth to the tummy LOL.
Any soup of your choice can go down with this swallow but my best soups for Eba are Okra soup, Ogbono soup, or any draw soup.
Nigerian Pepper soup is one of the popular soups we have in Africa, especially in Nigeria, Cameroon, Ghana, and let me say in most parts of West Africa Countries. There are different variations of this soup. We have assorted pepper soup, chicken pepper soup, goat meat pepper soup, and so on.
We love spicy soups and foods in Africa, that's why pepper soup remains one of the best, it's very hot and spicy. It's delightful and packaged with lots of amazing flavors.
Nigerian Pepper soup is one of my favorite soups. It's always a saving grace for me and my family to keep us warm especially in winter during the cold months.
13. Suya
The list of Nigerian foods can't be completed without Suya. Suya is generally made with skewered beef, ram, or chicken. It's spicy and popular in streets in Nigeria, mostly from the northerners (Hausas) which constitutes the largest ethnic groups in Nigeria.
The key ingredients in suya are good quality meat, ground peanut mixed with garlic, onion powder, cayenne, smoked paprika, seasoning powder, white, and hot pepper. Suya is juicy when not overcooked, tender, and delicious.
14. Okra Soup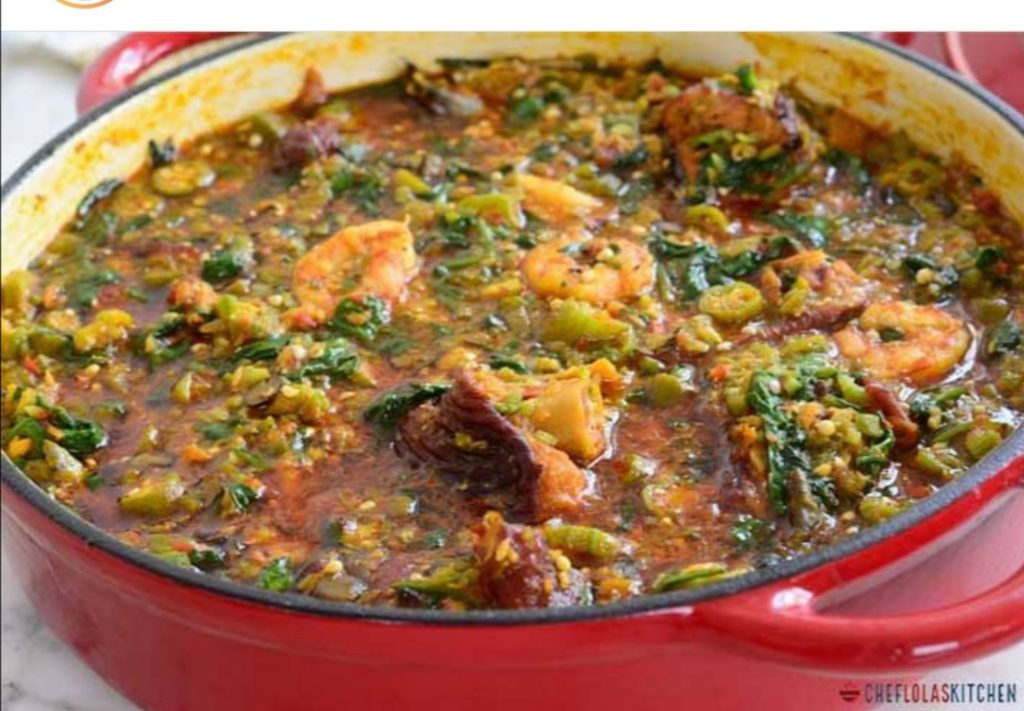 Okro is also one of my favorite soups, It's one of the quickest and easy to make Nigerian foods. It's super healthy and tastes yummy. Different meats, fish, assorted, shrimps can be sometimes found in this soup. It can also be prepared based on your preference.
Most of the ethnic groups in Nigeria love and cherish Okro soup, it goes down well with any of the swallows we have in Nigeria. Most of the time, I just lick the soup without any swallow LOL.
15. Edikaikong Soup
Edikaikong soup, also known as Edikang Ikong soup is a native soup of the Efiks people from the South-south region of Nigeria. They're sometimes referred to as Ibibio from Akwa Ibom and Cross River states of Nigeria.
The soup is very nutritious, it's prepared with pumpkin leaves (ugwu leaves) and water leaves with different kinds of meat and fish. Honestly, this soup is delicious with lots of essential vitamins.
16. Afang Soup
Just like Edikaikong, Afang soup is also native to the Ibibio or Efiks people of both Akwa-Ibom and Cross-River states. It's very delicious, medicinal, and nutritious. Any swallow of your choice is also good to go with this soup.
Nigerian Egg rolls have been one of my Nigerian favorite snacks right from the onset. I love its richness, thickness, and crispiness on the outside and inside.
Some Nigerians refer to this as Scotch eggs. Scotch eggs are wrapped in sausages but the Nigerian Egg rolls are wrapped in a generous amount of dough.
They're basically boiled eggs that are wrapped in the dough and deep-fried immediately. They're round in shape, this is because they're wrapped around the eggs.
Check out the recipe and my preparation video on how to make yours!
The doughnut is also one of Nigeria's most loved street snacks. It is absolutely perfect, super soft, and delicious. So, l thought of sharing this doughnut recipe here on the blog. See it here.
Nigerian Buns is one of the popular street snacks in Nigeria and loved by most Nigerians. They're so delicious especially when they're well prepared by following or using the right Nigerian Buns recipe.
It tastes incredibly yummy when it's crunchy and crispy on the outside and moist on the inside.
Nigerian fish roll is now one of my favorite snacks alongside puff-puff, meat pie and chin-chin, and so on.
During any festive period, it's always included in my menu. It's soft, perfect, and delicious.
I have one of the best fish roll recipe on the blog. Kindly check it here!
Chin-Chin is always on the top list of small chops menu to be served at Nigerian parties/occasions. Guests are always delighted to munch on this crunchy goodness at parties before foods are served.
Nigerian party is never complete without Chin-chin. Party without Nigerian chin-chin is that one a party? Lol. Chin-Chin is also one of the Nigerian street snacks.
Some people like their chin-chin hard but I love it soft and crunchy. Chin-Chin is simple and easy to make with my recipe here!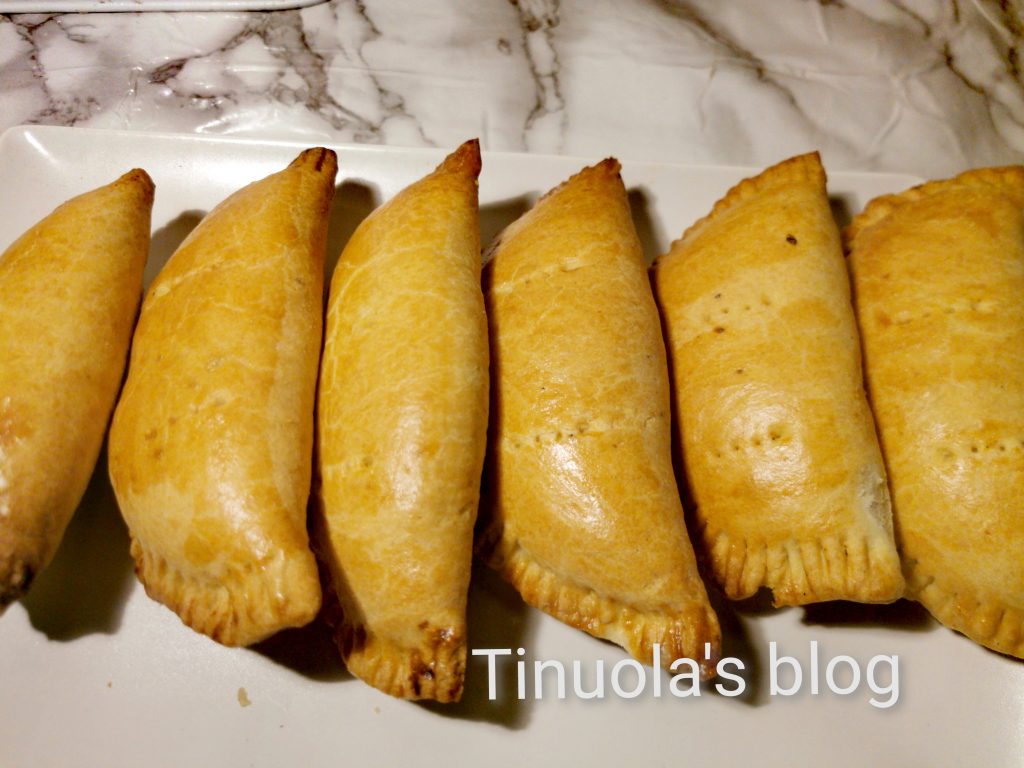 Nigerian minced-pie popularly called meat pie in Nigeria is a buttery, crispy, delicious snack filled with minced beef and vegetables (usually carrots and potatoes).
It's one of Nigeria's most loved street snacks and also one of the most sought during festive seasons and in most parties/occasions. The same way our Nigerian puff-puff and chin-chin are being sought.
There're other variations like fish pie and Chicken pie too. Check out the recipe!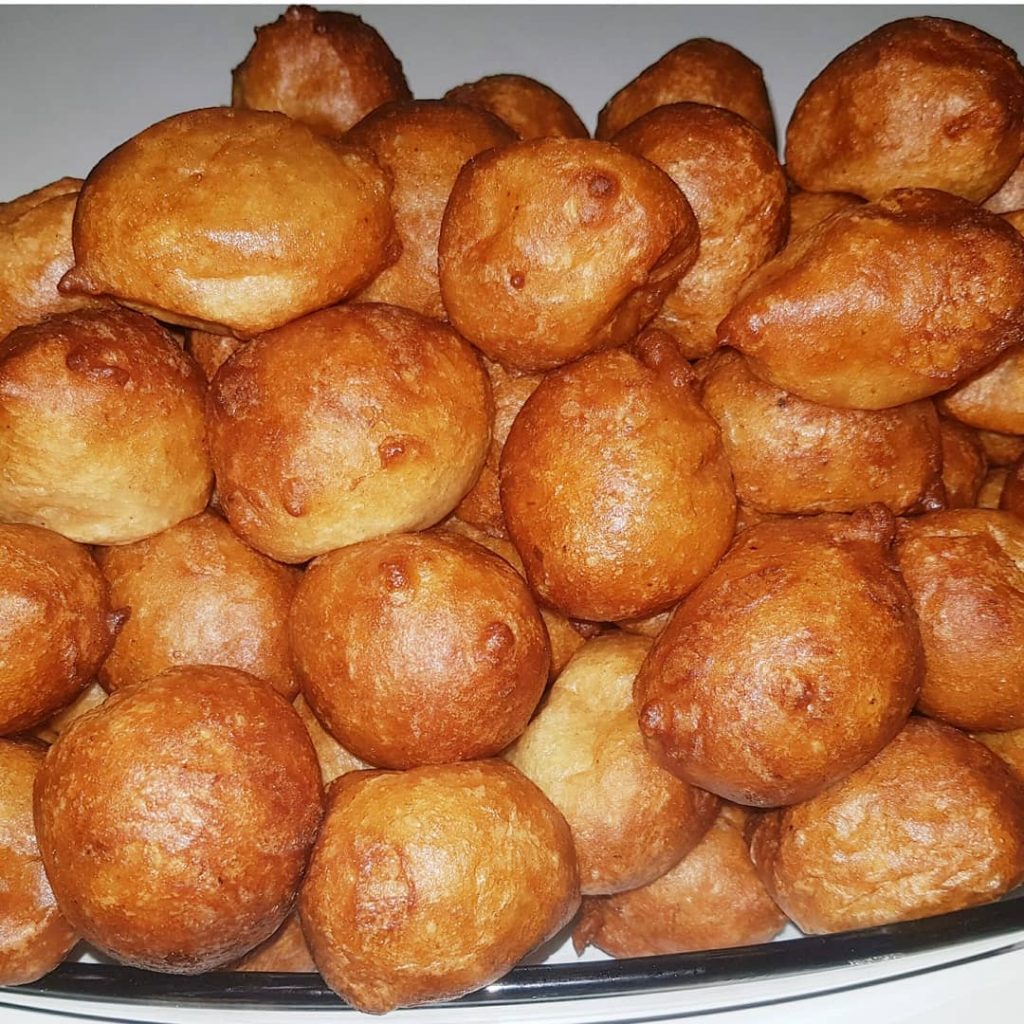 Puff puff is a typical Nigerian snack and one of the most loved Nigerian street foods. Growing up, I always looked forward to going out with my mum especially to the big markets because I knew that puff-puff would be my portion that day. I loved it as a child and it's still my favorite.
Due to my love for puff-puff, I've successfully tried my hands on different puff-puff recipes such as no yeast puff-puff, and coconut puff-puff, all came out incredible and perfect. Here is my recipe on how to make it!
Do you know any other food that's not included in this list? Feel free to add it at the comment section.