Jump to Recipe
Nigerian Fried Rice is one of the most delicious and easiest Nigerian Dishes. It's a common dish at Parties/Occasions in Nigeria, it's also common in Nigerian parties in the diaspora.
Nigerians home and abroad cherish this special delicacy so much alongside our Nigerian Jollof Rice which is loved and eaten across all the countries in West Africa
Most homes always have it in the menu list on special occasions like a family get-together, and also for Christmas celebrations. The combination of rice and some vegetables are a match made in heaven.
These veggies bring out the goodness in this recipe and you'll be amazed at how perfect and delicious your fried rice would turn out to be.
The veggies enrich the rice, makes it colorful and adds to its sweetness.
You can also make use of some proteins like shrimps, gizzard, or liver for a gratifying taste. I mostly make use of beef liver but in some cases, I'd add the three, this makes it extremely enjoyable.
It's ok if you don't like any of these, it's not compulsory. You can leave this stage out.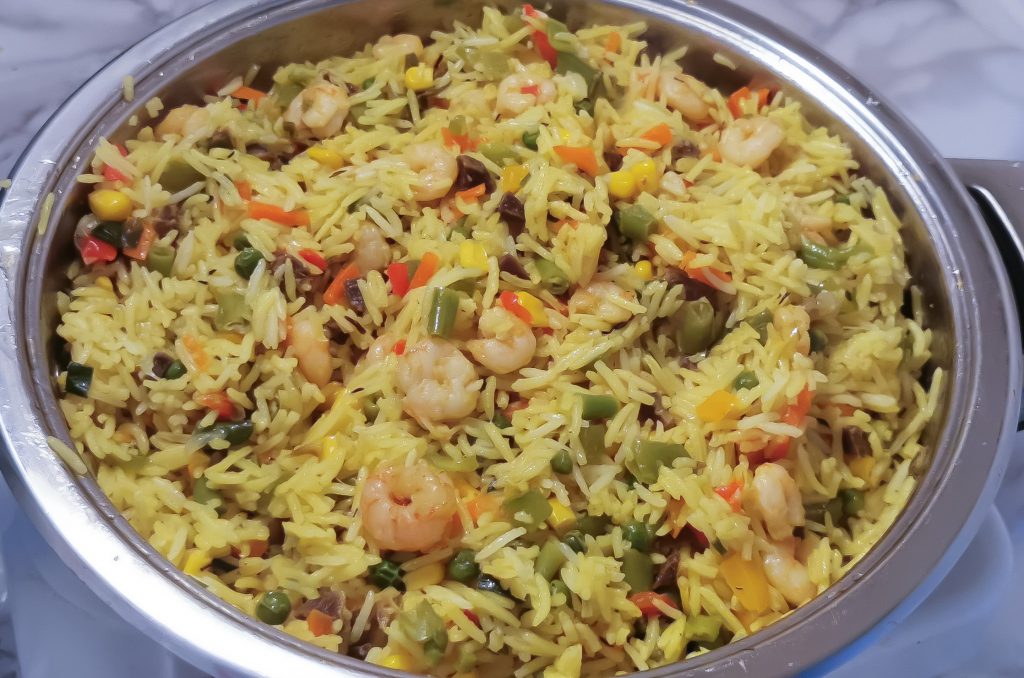 Chicken or Turkey stock is also a must for Nigerian Fried rice. Make sure you have some chicken/ Turkey available before you proceed with this recipe.
With this Nigerian Fried rice recipe, your rice can stay without a refrigerator for 24 hours without going bad and in the refrigerator for up to 2 weeks.
Cooking Preparation
The first thing to do is to wash and season your chicken/Turkey with some curry, thyme, garlic, ginger, salt, chicken seasoning cubes/powder, and sliced onions. Cover and allow to cook until soft and tender.
Extract the stock and set it aside. You may choose to fry or grill the chicken or Turkey, which you can later serve with the rice.
Do not use beef stock so as not to overpower the taste and color. Chicken and Turkey stock have a mild taste and blend with the rice color.
2. Wash and dice your vegetables into cubes: Carrots, green peas, green ball pepper, red ball pepper, green beans, sweet corn, onions, green onions, and green cayenne pepper (in case you want some heat in your rice).
3. Cut your cooked gizzard, beef liver into smaller pieces and stir fry slightly. If you are using shrimps, you should also stir fry.
4. Place your pot on heat and add some water to boil, wash your rice, and add in the boiling water, stir the rice, let it boil for about 3-4 minutes. Long grain Basmati rice is the best rice for cooking Nigerian Fried rice.
This is done to extract excess starch from the rice to avoid soggy or munchy fried rice. Do not over boil the rice. Set it aside and allow it to cool before use.
You can also use a day old leftover white rice in the refrigerator for this recipe.
So since all the preparation has been made, let's go straight into the cooking of the most delicious Nigerian Fried Rice.
Other rice recipes you may like:
Jollof rice recipe for a get-together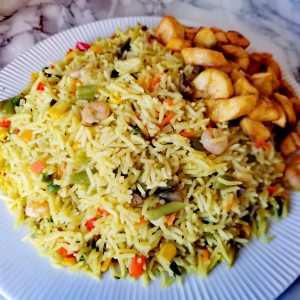 How To Make Nigerian Fried Rice
Nigerian Fried Rice is one of the most delicious and easiest Nigerian Dishes. It's a common dish at Parties/Occasions in Nigeria, it's also common in Nigerian parties in the diaspora.
Print
Pin
Rate
Ingredients
4

cups

Long Basmati Long grain Rice

2

cups

Chicken/Turkey stock

2

cups

mixed vegetables: carrots, green peas, green beans, sweet corn, red ball pepper, green cayenne pepper(optional)

1

big

sliced white onions

½

cup

green onions

1

teaspoon

curry

1

teaspoon

thyme

1½

cup

Beef liver/gizzard/ shrimps (Choose your choice)

1 teaspoon grated ginger

2 tablespoon butter (30 g)

3

tablespoon

Cooking oil.

6

cubes

Chicken seasoning

salt to taste
Instructions
Place the parboiled rice in the pot on medium heat add curry, thyme, chicken seasoning cubes, and salt to taste.

Now add the chicken stock and more water that can cook the rice but do not overcook the rice to avoid soggy rice. Use the exact amount of liquid to cook the rice.

When the rice is properly cooked, remove it from the heat and, set it aside.

Place a deep frying pan on medium heat, add 2 tablespoons of butter together with 2 tablespoons of cooking oil, add the sliced onions, the grated ginger. Stir and allow to saute for 1 minute.

Then add the mixed vegetables one after the other and stir fry. Do not over fry your vegetables but be sure they're properly fried to avoid your rice getting bad quickly. It tastes super good when crunchy.

Now go ahead to add the cooked rice bit by bit with the fried vegetables give it a good stir and make sure it's evenly distributed.

Finally seal this goodness with the diced green onions and allow to simmer for about 2-3 minutes. Slightly stir again.

Ready! Ready!! Ready!!! Our Nigerian Fried rice is ready to be enjoyed.

You can serve with plantain, chicken, turkey and beef. Enjoy!
Video
Notes
You can divide the ingredients into 2 if you want a smaller quantity or double the ingredients if you want a larger quantity.
Nutrition
Serving:
1
cup
|
Calories:
332
kcal
|
Carbohydrates:
49
g
|
Protein:
13
g
|
Fat:
8
g
|
Saturated Fat:
4.7
g
|
Polyunsaturated Fat:
0.6
g
|
Monounsaturated Fat:
2.6
g
|
Cholesterol:
28.5
mg
|
Sodium:
1.221
mg
|
Potassium:
286
mg
|
Fiber:
2
g
|
Sugar:
0.9
g