Summer is just around the corner and it can be hard to find things to do with the kids during these longer days. There are still many cheap summer activities for kids to be found, it is just a case of looking in the right places.
They may start to get bored or restless and this can be a real issue if you have long summer months until school starts again.
Not only that but the little ones are always eager to try new things and they want to spend their time outside.
I know from experience, that my kids literally sit in front of the TV from morning till evening if we let them, so let's avoid this scenario at all costs.
With that said, I'm here to give you some ideas for cheap summer activities for kids
So check out this collection of cheap DIY activities that can keep your children busy, keep them entertained, and out of trouble during the vacation.
Cheap Summer Activities For Kids
1.) Backyard obstacle course
One of the summer activities to do with kids is by setting up a backyard obstacle course for your kids with just about anything you already have around the house.
Check out the following suggestions, or simply use these as inspiration to come up with more ideas of your own:
Take advantage of items that are normally used in other ways. For example, if you have a trampoline or balance beams lying around, incorporate those into the course. You can also ask friends and neighbors if they're willing to lend you some things—if they know it's for a good cause, they may be happy to help!
Don't feel like you need tons of different items to set up an obstacle course. Some people will say that all you need is a few pieces of PVC pipe and some rope. If this is the case then great! But even if you don't have access to those materials, don't worry: there are plenty of other options out there! The key is being creative ~~and within budget~~.
2.) Indoor playdate
Invite your kids' friends over for a playdate. If you have more than one child, this is a no-brainer; they're already playing together. But even if you only have one child, inviting a friend or two over will give them someone to spend the day with.
Play board games, such as Monopoly or Sorry!
Dress up in costumes and dance around the house. This can be especially fun if you have girls who like to dress up in princess costumes (or boys who enjoy pretending to be pirates).
Have a dance party. Turn on some music and have the kids dance around the house (bonus points if you make it an obstacle course).
Have a sleepover. If there are enough of them, tell them they can sleep wherever they want—as long as it's not in your bed! Kids love staying up late and having snacks at night, so this is sure to be a hit with everyone involved.
3.) Vacation day movie marathon
Organizing a vacation day movie marathon is also one of the summer activities for kids. It's a great way to keep the kids entertained and happy indoors. Here's how to do it:
Figure out how many movies you want to watch. We recommend at least two, but you can watch as many as four or five in one day if they're short enough.
Decide what types of movies will be best for your kids' age group, and make a list of movie titles that fit the bill. For example, if you have very young children, choose movies like "The Lion King" or "The Little Mermaid." If your children are a little older, something like "Aladdin" or "The Incredibles" would be appropriate–or any Disney princess movie for girls!
Pick out special snacks that fit the theme of each movie on your list–for example, peanuts and popcorn for a "Jungle Book"-themed afternoon! Make sure there are plenty of healthy options too; fruits and veggies are always good choices when it not only provides sustenance but keeps them interested during those quiet moments when nothing much happens on screen!
Set up an area where everyone can sit comfortably together with pillows and blankets so they don't feel cramped while watching (and eating) their favorite treats throughout each film's duration–and don't forget about lighting because it is important not only for seeing things clearly but also sets moods accordingly: dimmer ones give off cozy vibes whereas brighter ones create excitement! Finally, designate someone who will take charge during breaks between movies so no one gets bored waiting around until their next favorite title comes up next (like playing board games)!
4.) Superhero day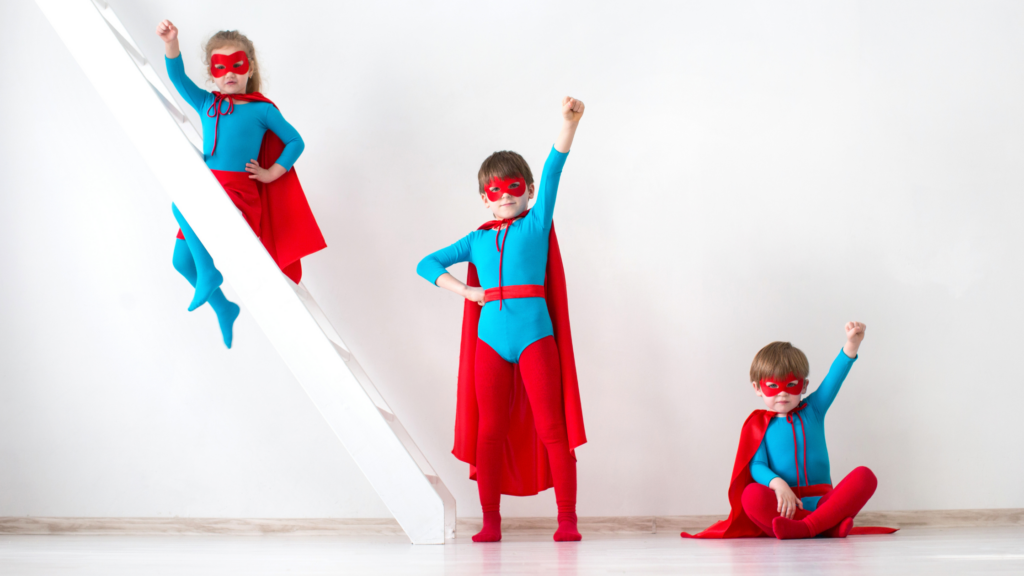 On superhero day, your kids will become the caped crusaders of their dreams. They can spend the day in full costume and pretend to be superheroes, all while having fun in your own backyard.
Here are a few ideas on how you can make Superhero Day happen:
Games with superpowers: Think of games like "freeze tag" and other running and action games that involve kids using their imaginations to act out being superheroes.
Superhero movies: Put on a superhero movie for some of the quieter moments during this themed play day.
Games about superheroes: Find board games that feature superheroes or create your own superhero-themed game.
Tell superhero stories: Some families have storytellers in their group; ask those people to tell their own stories about superheroes or retell a classic tale from mythology.
Read superhero books: Break out the comic books, or read an illustrated book about a famous hero's journey.
Draw pictures of superheroes: Hand out paper and crayons so everyone has a chance to draw his or her favorite superhero characters.
Make some crafts involving superheroes: Create masks or capes made out of old T-shirts, cardboard, markers, and glue; then have contests to determine who has produced the best do-it-yourself costume!
Have a party with superheroes as guests of honor: Invite friends over for snacks and beverages at a party where everyone is dressed up as his or her favorite hero (or villain). Provide music for dancing around in costumes!
Take it outside with a picnic lunch—and invite Spiderman! Have each family member bring his/her lunch packed inside his/her "superhero lunchbox" so they can eat together before going back outside to play more games.
5.) Have an outdoor picnic!
The best picnics have a few key ingredients: a comfortable blanket, enough food, and water. Make sure your basket or bag has all the essentials before you leave home!
You'll also want to pick a location that is both accessible and fun to explore. A local park is an obvious choice, but don't forget that beaches can be great options, too!
The beach at Shoreline Park in Mountain View, California has an expansive lawn perfect for running around on or stretching out for a nap.
When packing your picnic basket (or bag), make sure everything will stay cold until you're ready to eat it! You should also include water bottles and bug spray so that you can enjoy being outdoors.
6.) Make your own ice cream.
One of such summer activities for kids is by making your own Ice Cream home. With just a few pantry ingredients, your kids can have ice cream in their hands in minutes.
There are many ways to make homemade ice cream—using a food processor, blender, hand mixer, or ice cream maker.
Each method requires a different set of ingredients and slightly different techniques, but the results are all delicious.
Try several methods to find out which one you like best. The recipes below will give you all the details for making each type of homemade ice cream.
Best homemade Ice Cream Recipe
7.) Backyard baseball or kickball game.
Invite everybody who wants to join in. This not only makes for a bigger crowd but also takes the pressure off of your child to be the center of attention or put on a show.
Get your gear ready before you start. That way, everyone can get straight into the game without any delays. That includes having drinks and snacks on hand as well as making sure everyone has their required gear (i.e., hats, cleats, gloves).
Be sure to stay hydrated! This is an important tip for kids of all ages (and adults too!).
Set up a friendly competition between family and friends! There's nothing wrong with trying to win—but remember that this is supposed to be fun! You'll have more fun if you play with friends or family members you enjoy spending time with and who are willing to work together rather than try too hard to win every time.
9.) Blow up the pool and have a pool party!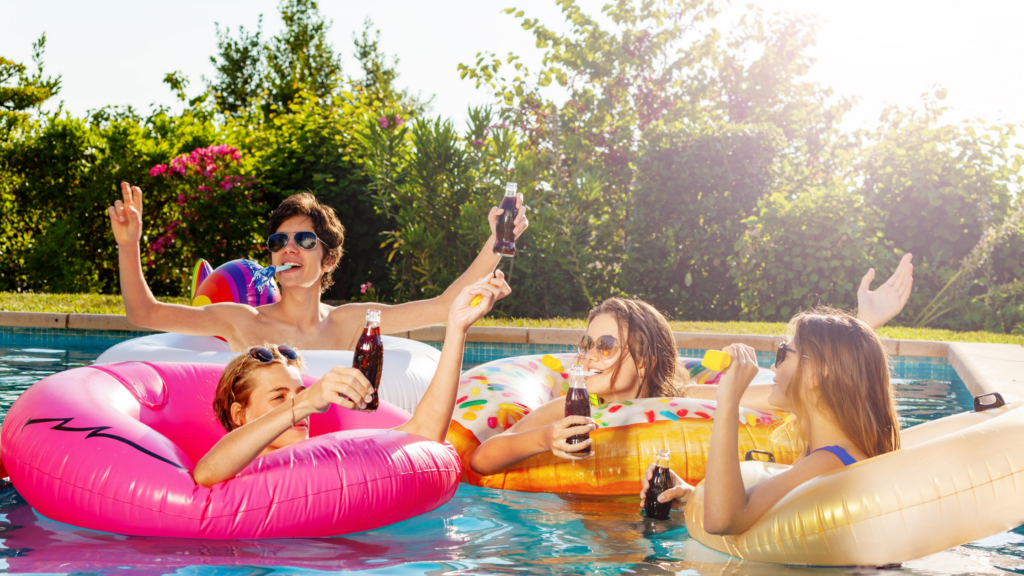 This may seem obvious, but you really need a pool before you can have a pool party. You can go the inflatable kiddie pool route for a smaller gathering, or graduate to an above-ground option for larger groups—and if you're ready to commit, there are always options for putting in a permanent swimming space in your yard.
Make sure you have enough water for everyone! A common mistake with backyard pools is to underestimate how much water it takes to fill them up and then how much extra will be needed to allow for people splashing around or spills related to games and activities. It's better to err on the side of having too much water than too little!
Don't forget the H20 chemistry! Pool parties won't be any fun at all if guests get sick from bacteria-laden water, so make sure that your pool's pH is tested and adjusted as needed before craziness commences. This is one area where hiring a professional may not be a bad idea depending on how big your pool is going to be that day.
10.) Backyard camping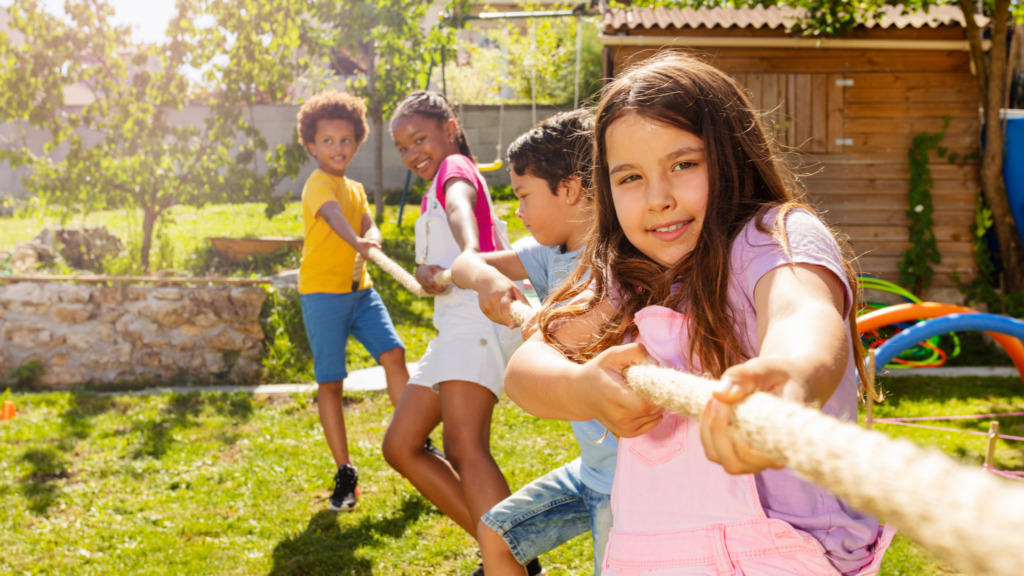 Furthermore, Backyard camping is also one of the summer activities I enjoy doing so much with my kids. It's a fun way for kids to experience all the joys of camping without being too far from home.
Here are a few tips to make the most of backyard campouts.
Set up the tent, sleeping bags, and any other gear in your backyard to get kids used to sleeping outside
Pack flashlights, bug spray, sunblock, and games (such as card games) into a backpack so they're easy to find when it's dark outside
Roast marshmallows over a fire pit or hibachi barbecue that you already have set up in your yard (we don't recommend this if you live in an apartment!)
Tell ghost stories or play hide-and-seek with flashlights and glow sticks at night; during the day, put together nature scavenger hunts so kids can explore their yards.
11.) Visit an animal shelter and donate needed items.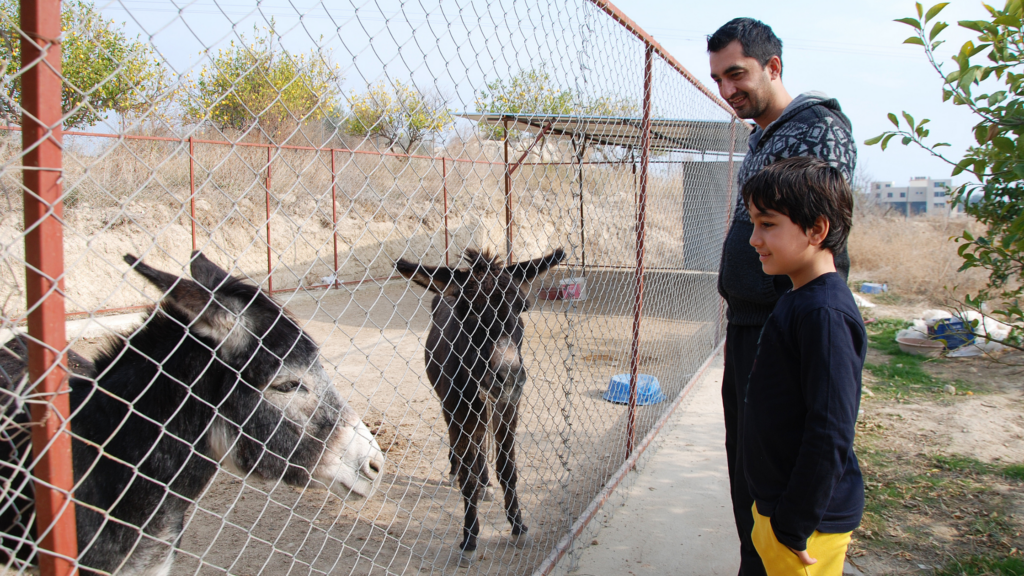 To entertain your kids this summer, visit a local animal shelter and donate needed items. This can be a fun activity for the kids (who will likely have some favorite toys they're willing to share).
Check with the shelter ahead of time to see what they need (it's good practice to call ahead anyway so you don't end up at the shelter when it is closed).
Donations differ from place to place but may include towels and blankets, food bowls and beds, cat litter, toys, treats, and other supplies.
Donating these items will help keep costs down for your local animal shelter allowing them to spend more money on things like veterinary care for their animals.
If your child has a pet of their own that is no longer in need of any supplies, think about donating those items as well.
12.) Go fishing.
It's a cliché, but it really is one of life's simplest pleasures. You can enjoy the simple pleasures of fishing alone or with friends and family.
The beauty of fishing is that it can be done anywhere there is water. So if there isn't a pond near you, you can always head to the river or even the sea. All you need for this activity is:
• A fishing rod
• A fishing license (if required)
• Some bait (worms, crickets, and grasshoppers are often used)
• Maybe a net if you want to scoop up any fish you catch instead of picking them off your hook
• A bucket for your fish
13.) Build a fort in the living room and then curl up inside to read.
Building forts is the perfect activity for your kids this summer. Not only does it get their creative juices flowing, but it also gives them a chance to curl up inside with a good book and relax.
They can build it using blankets, pillows, cardboard boxes, or anything else they can find! Encourage your kids to read before going to sleep each night.
If you have time, consider reading aloud to them-it is a great way to bond as a family and get away from the hustle and bustle of life.
You can always get it from Amazon at a cheaper price.
If you love this article about cheap summer activities to do with kids, you may also want to like these:
25 Fun Indoor Activities To do with kids

10 Ways To Make School Mornings Routine Easier For Parents and Kids
14.) Family bike ride/Scavenger hunt.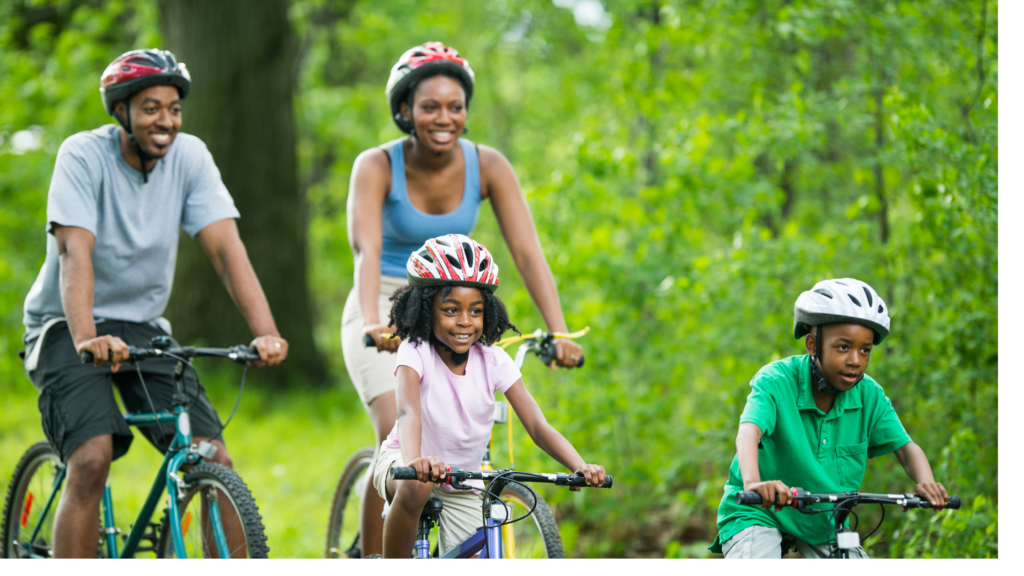 Before embarking on a family bike ride, make sure that all bikes are in working condition. Check the brakes, pedals, and tires for wear and tear.
Also, check your helmet! Make sure it is not cracked or dirty. Remember to bring a backpack full of water bottles so you can stay hydrated while out on your ride.
It is important to be safe when riding bikes, so remember to always wear your helmet!
15.) Let them loose with sidewalk chalk all over the driveway.
Give your kids free rein with their favorite sidewalk chalk this summer. Let them create games (like hopscotch or tic-tac-toe), art, messages to neighbors, and whatever else they want. You may even get in on the action, too!
What's great about sidewalk chalk is that it's not expensive and you can buy a lot of colors that will keep the kids entertained for hours. Plus it washes right off with a hose or some rain.
16.) Write their own comic book.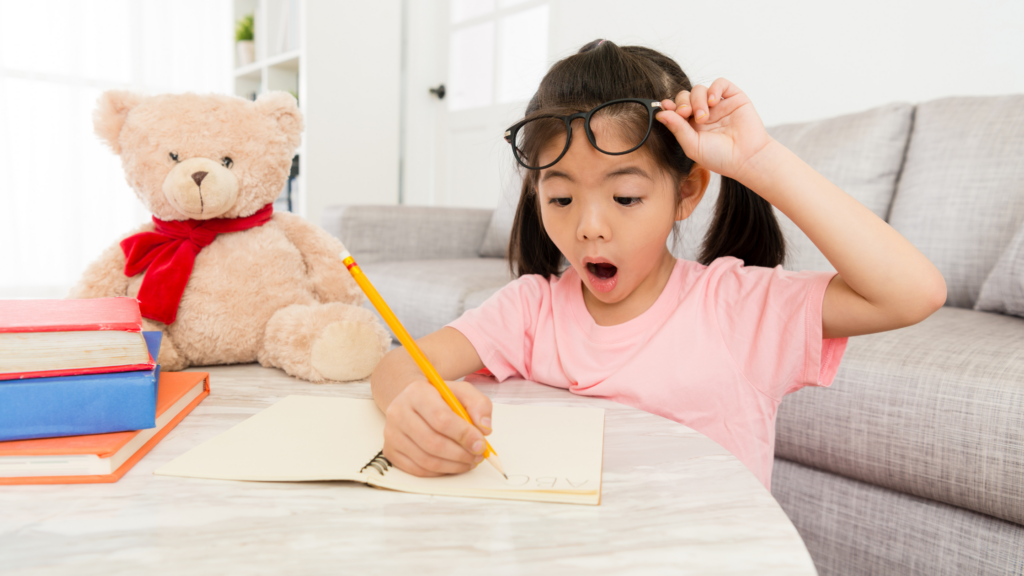 Comic books are not only fun to read, but they're really fun to write, too! Get your kids into writing their own comic books by following a few of these tips:
Find an idea that they resonate with. Take them to the library or bookstore and let them wander through the graphic novel section. They should be able to find something that sparks their imagination.
Go online for help. There are tons of resources out there about how to get started on a comic book, with plenty of advice for both seasoned comics writers and young first-timers alike.
Set up some sort of reward system when they finish their comic book so that it's an even more rewarding experience.
17.) Have a family dance party.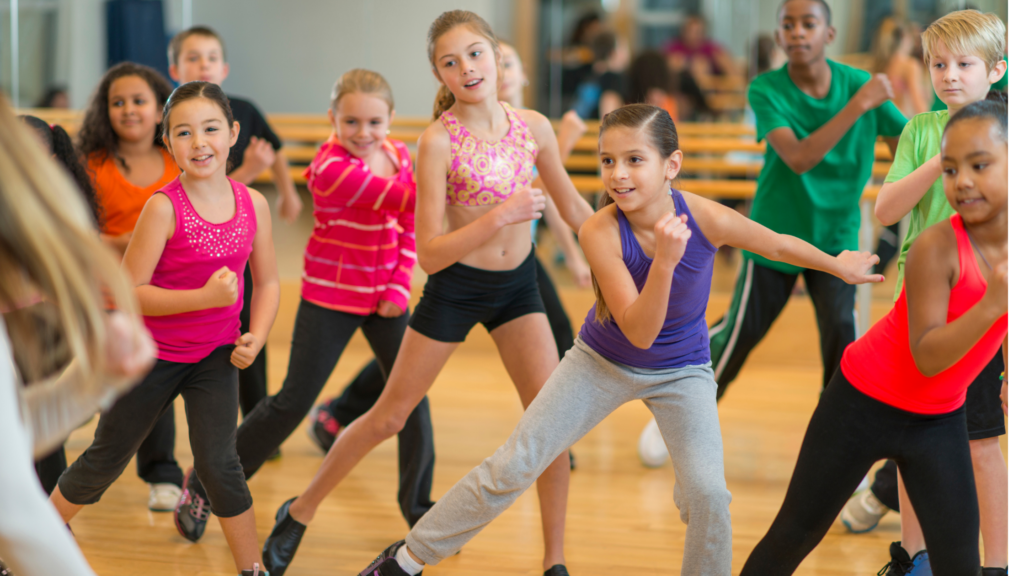 The most important thing to note here is that you don't have to be a dance expert to lead a dance party! The point of this activity is fun and exercise, so make sure it's fun for everyone.
There are many benefits of teaching your child how to dance. Dancing can give children an outlet for expressing themselves (especially if they're not into sports or other physical activities).
Dancing helps kids become more comfortable in their own skin, promotes socialization skills, and allows them to try new things and develop their creativity.
18.) Backyard yoga class for parents and kids together.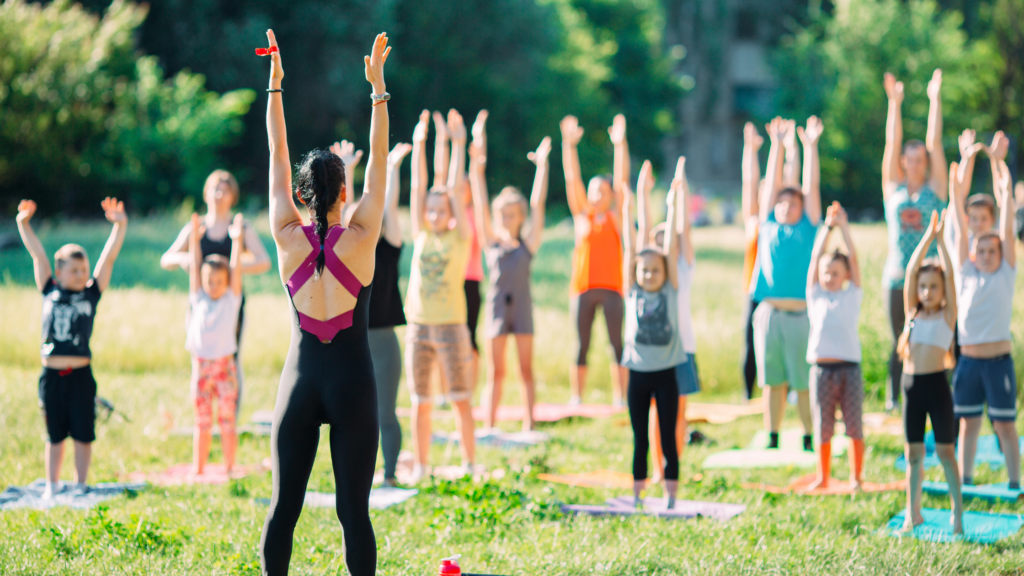 Backyard yoga is growing in popularity because it's a great way to get kids moving and enjoy the outdoors at the same time.
Since everyone gets their own mat, practice doesn't have to be segregated – mom can do her flow while dad catches some sun and the kids can play nearby or lay on their backs to watch the clouds drift by… or each other.
19.) Make your own lemonade stand (free bonus points if it benefits charity).
Building a lemonade stand is a classic activity and one that's been around for nearly 130 years.
While you might not have a recipe as secret as the Kool-Aid man's, making your own lemonade stand (and even better, giving back to charity) is easy and fun.
To start building your own lemonade stand:
Find signs or make your own to advertise the lemonade stand. You can make them by hand or design them online for free with tools like Canva or Wordswag. You can also print signs from these websites, which many libraries offer at low or no cost.
Pick a busy location, such as in front of your home or at the park near to where you live. The more people who see the sign, the more people will buy it!
Get permission from an adult (i.e., your mom or dad).
Make sure you use fresh ingredients and create some classic flavors like traditional yellow lemonade (which is super easy), pink lemonade, and maybe even strawberry-mint if you're feeling fancy!
20.) Blow Bubbles
Blow bubbles, blow bubbles everywhere! Bubbles are not just children's toys. They are a cheap summer activity that you can do outside to keep your kids away from electronics and have some cheap fun.
21.) Play hide and seek
Have you ever thought of playing hide and seek as one of the cheap summer activities for kids? The truth is that playing hide and seek is also one of the best easy outdoor games for kids in summer.
What kid doesn't like a game that lets them run around the backyard pretending to be an astronaut, or a pirate… or whatever they are into these days (I am still stuck in the 80s).
There are lots of fun summer activities for kids that don't cost much money.
Kids like to have fun and they like to try new things. This article is full of ideas that are sure to make them happy. Most of them cost under $50, and a few are even free. The kids will have a great time and gain some new skills.
I know what you're thinking: "That sounds awesome! But I'm on a budget…" Well, fear not—this list has activities for all income levels!